Date(s) - 12/06/2023
Time(s) - 7:00 pm - 9:00 pm
Location
Atlanta Photography Group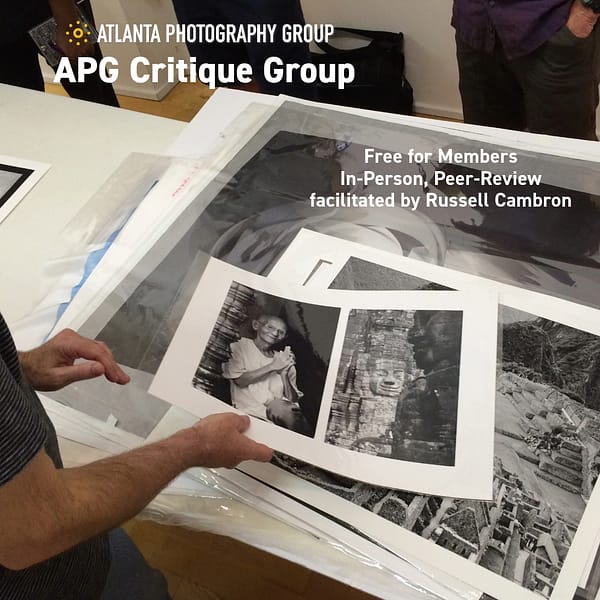 APG is excited to announce the highly anticipated return of in-person critiques, now called APG Critique Group. Conveniently held at the APG gallery in the heart of midtown Atlanta, APG Critique Group will convene on the first Wednesday of every month.
Led by experienced workshop leader and critique moderator, Russell Cambron, APG Critique Group provides a unique platform for APG members to receive constructive feedback and engage in insightful discussions about their work. Under Russell's guidance, each meeting of the APG Critique Group will foster an atmosphere of support and collaboration, enabling participants to leverage the collective artistic experience and expertise of their peers.
Whether you have individual images or a series from any lens-based project, this welcoming and professional environment is dedicated to nurturing your artistic voice and vision, providing valuable insights to help you refine and elevate your work.
Don't miss out on the opportunity to engage with fellow photographers, receive valuable critiques, and cultivate your creative journey. Join us for APG Critique Group and take the next step in refining your artistic vision.
Instructors' Bio
Russell Cambron explores memoir, intimacy, and beauty through the photographic lens and the written word. He holds M.F.A. degrees in photography and writing from the Savannah College of Art and Design in Atlanta.
Russell's premier solo exhibition, Boy, Owl, and Raven, showed at Whitespec gallery in Atlanta in 2017. His written works have been published in the Ivy Hall Review and the award-winning SCAD Connector.
Russell facilitates workshops on writing and photography and moderates group critiques with the Atlanta Photography Group and is Department Head for Humanities at Fusion Academy Buckhead, where he teaches courses in English literature, history, and photography.
Guidelines for APG Critique Group:
Membership Requirement: APG Critique Group is exclusively for APG members. Active membership is required to participate in presenting work for critique.
Drop-in Observers: We welcome drop-in observers from the local APG community who want to engage with the artistic process, but are not prepared to present their own work. Drop-in observers do not need to register.
Limited Presenter Slots: Each APG Critique Group session offers a maximum of 10 presenter slots. This limitation ensures that every participant has an opportunity to present their work and receive feedback.
Registration: Only Presenters must register in advance to secure a presenter slot. Registrations are accepted on a first-come, first-served basis.
Presentation Format: While physical prints are preferred, we have the capability to display digital work on a large viewing screen if necessary. Please ensure that your digital files are properly formatted and ready for presentation.
The critique group is free for members.
By following these guidelines, we aim to create a supportive and constructive environment for artistic growth and development within the APG community.
Not an APG Member? – Join or Renew Now!
REGISTRATION INFORMATION
Registration is Currently Open for the all 4 Critique Sessions:
Event:                                       First Wednesday of Each Month, 7:00-9:00 pm EST
Location:                                 In-Person – At the APG Gallery
If you would like to present your work, please read the guidelines above and register below.
Not an APG member? Join or Renew Now! and save money on APG workshops, calls for entry and services.
REGISTER AS PRESENTER
YOU DO NOT NEED TO REGISTER IF YOU ARE JUST OBSERVING