Date(s) - 11/06/2023 - 12/15/2023
Time(s) - 6:00 am - 10:00 pm
Location
Atlanta Photography Group

Analog Photography
Juror:
Michael Kirchoff
#filmisnotdead is a celebration of the timeless beauty and artistry of analog photography. This juried exhibition will showcase the unique and evocative qualities that can only be captured through traditional film. We invite photographers from all around the world to submit their best analog images for a chance to be part of this exhibition.
This call for entry is open to photographers of all levels, both amateur and professional, who work with analog photography techniques, including but not limited to film, wet plate, cyanotype, and other traditional processes.
This is an open call with no theme for the subject matter of the images.
Thirty (30) images will be selected to be installed as unframed prints in our Maloof Gallery.
The Maloof Gallery, named after long-time APG patron's Ted and Gloria Maloof, supports multiple group and solo exhibitions each year.
Our esteemed juror will select one image as the "Juror's Choice" and that individual will receive a complementary entry for the next Main Gallery call for entry. The total print (paper) size for selected awarded artwork will be limited to 22" on the longest side, or less, but no framing or matting will be required. These prints will be installed using magnets. We can also recommend a local printing service, if that is needed.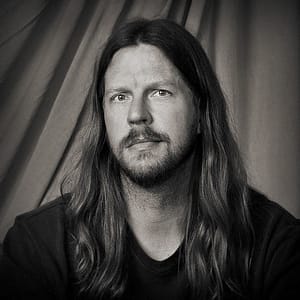 Michael Kirchoff
Editor-in-Chief at Analog Forever Magazine
Founding Editor for Catalyst: Interviews
Contributing Editor at One Twelve Publishing
Co-Host of The Diffusion Tapes podcast
Michael Kirchoff works in the worlds of both commercial and fine art photography. A commercial photographer for over thirty years, it is his fine art work that has set him apart from others, with instant film and toy camera images fueling several bodies of work. His consulting, training, and overall support of his fellow photographic artist continues with assistance in constructing ones vision, reviewing portfolios, and finding exhibition opportunities, which fill the gaps in time away from making photographs
Michael is also an independent curator and juror, and advocate for the photographic arts. He is a juror for Photolucida's Critical Mass, and has reviewed portfolios for several fine art photographic organizations and non-profits in the U.S. and abroad. Michael has been a contributing writer for Lenscratch, Light Leaked, and Don't Take Pictures magazine. In addition, he spent ten years (2006-2016) on the Board of the American Photographic Artists in Los Angeles (APA/LA), producing artist lectures, as well as business and inspirational events for the community, and was nominated as Photo Editor of the Year for 2023 at The Lucie Foundation. Currently, he is also Editor-in-Chief at Analog Forever Magazine, Founding Editor for Catalyst: Interviews, Contributing Editor at One Twelve Publishing, and the Co-Host of The Diffusion Tapes podcast.
ENTRY INFORMATION
CFE Submissions:  November 6–Dec. 15, 2023
All dates and times are Eastern Time (ET)
All submissions must be made by December 15, 2023, 10PM ET

Early Submissions – November 6 – 16, 2023:
2 works: $35, 4 works: $50, 6 works: $60, 8 works: $75
Regular Submissions –November 17 – December 4, 2023:
2 images: $40, 4 images: $60, 6 images: $70, 8 images: $85
Late Submissions – December 15, 2023:
2 images: $50, 4 images: $70, 6 images: $80, 8 images: $95
Student Submissions:
2 images: $30, 4 images: $45, 6 images: $55, 8 images: $70
SCHOLARSHIPS
4 scholarships are available for this call for entry. APG offers need-based Scholarships for all of our exhibitions that will cover the submission entry fee. Don't let a lack of funds prevent you from sharing your vision with the world. Be a part of the photography community and show your work today. Click HERE for more details.
Selected work can be up to 22" on the longest side for the exhibition. Prints only. No frames.
Images which have been shown in either the Main or Maloof Galleries within the last 3 years are not eligible.
Deadline For Entries: December 15, 2023, 10pm ET
Notification of Accepted Work: On or about December 20, 2023
Deadline to Delivery Artwork to the APG Gallery: January 12, 2024 by 4pm ET
Exhibition Dates: January 15 – February 17, 2024
Reception & Juror Talk: TBD

Open to APG members – Join or Renew Now!
FILE PREPARATION
The juror will be selecting the images from all entries.
Export images as .jpg. Resize to 2100 px on the longest side.
Rename files to the titles of each work exactly as you wish it to appear (example: My Great Photo.jpg) Your name will be automatically prepended to the file upon upload.
Create a text file with your Personal Info (name, email, phone, website/social media), Artist Statement (500 words max), Bio (250 words max), and Image list (in this order: Title, Year piece was created, Print/Image Size (H x W), estimated Framed Size (H x W) Medium (archival pigment print, inkjet print, silver gelatin, cyanotype, etc.), and save this file as a Word doc or PDF.
The link to upload your files will be sent to you in your payment confirmation email. You will receive two emails after you pay. One will have the upload link. If you don't receive two emails, check your spam folder.
In order to submit your work you must be a current APG member. Join or Renew Now!
All entries must be completed ONLINE. Do NOT email any image files
Complete Online Registration & Payment
The link to upload your files will be sent to you in your payment confirmation email. You will receive two emails after you pay. One will have the upload link. If you don't receive two emails, check your spam folder.
Once you get this link, you must be logged into the website in order to successfully upload your work.
Upload Files to the Dropbox link found in the payment confirmation.
If you have any questions or need assistance, please contact – gallery@AtlantaPhotographyGroup.org
All submissions must be completed and uploaded by December 15, 2023 at 10PM ET