Date(s) - 06/03/2020
Time(s) - 7:00 pm - 9:00 pm

Chris Dant joins APG to lead the
June 3 -ONLINE- meeting of the Critique Group.
We are delighted to have Chris Dant lead the Atlanta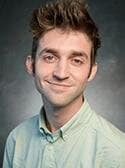 Photography Group – Critique Group for June 3, 2020 – with our online version.
Chris Dant is a visual artist who explores the ideas of empathy, shared experience, family history and loss through the use of the photographic medium. Chris received his Bachelor of Fine Arts degree from the University of North Texas and his Master in Fine Arts degree from the University of Notre Dame. Dant received the Walter R. Beardsley Award for Best in Show, for his MFA Thesis Exhibition, Worthy Sons, from the Snite Museum of Art in Notre Dame, Indiana. In 2015, he was commissioned by the South Bend Museum of Art to travel around the state of Indiana and photographically document the still existing projects constructed by the Works Progress Administration (W.P.A.) in the 1930s and 40s. He has also exhibited his work regionally and nationally. In the Spring of 2017, he accepted the position of Assistant Professor of Photography at the University of North Georgia, in Dahlonega, Georgia, where he currently resides. Chris helps oversee the photography area at UNG.
www.chrisdant.com @cdant
Critique Group Guidelines
New ONLINE version 2020 – Read info and Register!
Critique Group is for APG members only, but we welcome an exploratory visit.
If you'd like to present your work or just join us for this online version – registration is required.
This ONLINE critique is limited to 12 photography reviews (+ a few on the wait list usually) and up to 100 total participants.

Preference for critique participation will go to current APG members.

The dropbox link to upload images will be sent to the first 12 photographers to register, with a wait list.

The ZOOM meeting link will be sent to all those registered, usually the day of the critique

Critiques are timed so everyone gets equal consideration. No work? No problem, observing is just as valuable.
Critique Manners
Questions and constructive feedback is encouraged – via Chat

If you've registered and been selected for the critique – good manners is to stay thru the entire event.
Image Requirements
Upload up to 10 images

Jpegs only

2100 pixels on the long side

Include ALL metadata

Must be registered

Deadline to upload images – day of critique no later than 10am

you will be sent a link a few days before the critique date