Date(s) - 02/10/2021
Time(s) - 7:00 pm - 9:00 pm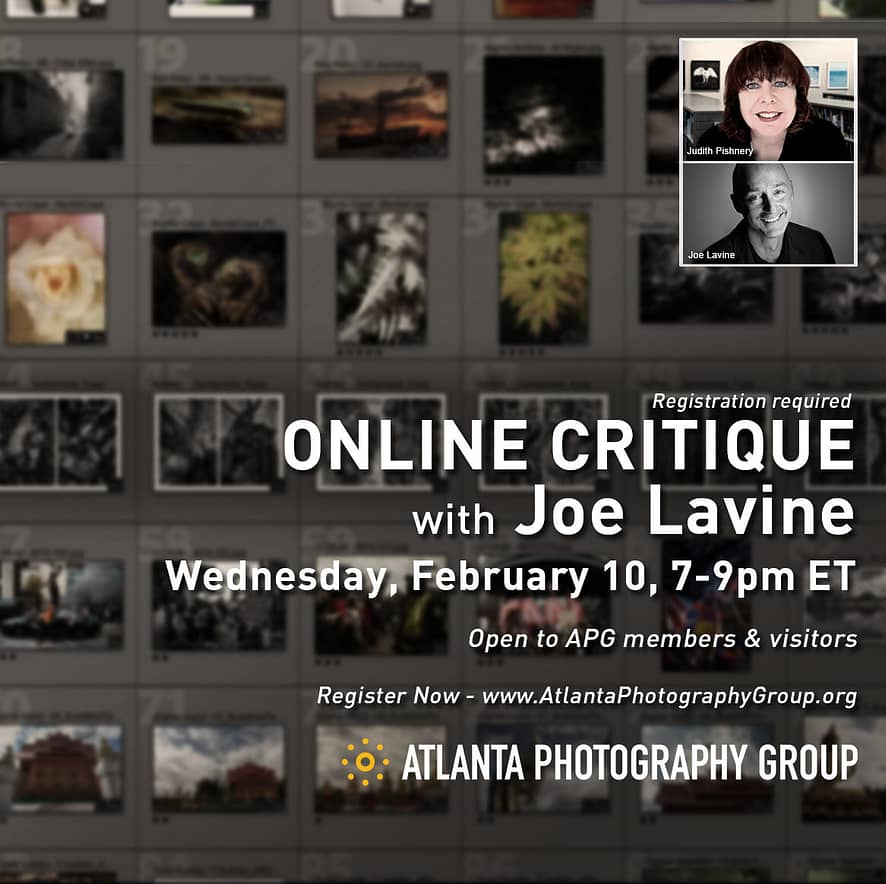 Joe Lavine joins APG to lead the FEBRUARY -ONLINE- meeting of the Critique Group. Register Now!
Joe Lavine is a photographer, educator, workshop instructor, and author focused on teaching and expression through imagery.  As a professional photographer, Joe has spent roughly thirty years capturing the essence of food. These years of focusing on the details, which involved frequent experimentation and problem-solving, have made him an expert in understanding his subjects, digital imaging, and creative lighting techniques. Joe's clients include Coors, Betty Crocker, General Mills, Coca-Cola, Pillsbury, Coleman Foods, Yoplait Yogurt, McDonald's, and Celestial Seasonings.
Joe has taught lighting and digital imaging at multiple universities. During his time as the Manager of Educational Services at Profoto traveled across the US, giving lectures on lighting and the world of professional photography. He began teaching Photoshop version two in 1991 and Lightroom soon after its release in 2007. Joe is an Adobe Community Professional, Adobe Certified Expert, and Epson's Print Academy member. He is the author of multiple books on photography, including the 2019 release of Lighting for Photographers, An Introductory Guide to Professional Photography. Whether through teaching or writing, Joe's goal is to provide people the tools to achieve their goals in photography.
His 2021 workshop, teaching, and lecture schedule include, The Academy of Arts University, Colorado Mountain College, Arapahoe Community College, Rocky Mountain School of Photography, Maine Media Workshops + College, Cal Poly State University, and the Atlanta Photography Group.
Connect with Joe >
EDU focused https://www.joelavine.com/
Commerical https://lavinephotography.com/
LinkedIn https://www.linkedin.com/in/joelavine/
---
Critique Group Guidelines
ONLINE for FEBRUARY 2021 – Read info and Register
Critique Group is for APG members only, but we welcome an exploratory visit.
If you'd like to present your work or just join us for this online version – registration is required.
This ONLINE critique is limited to 12 photography reviews and up to 100 total participants.`
Preference for critique participation will go to current APG members.
The dropbox link to upload images will be sent to the first 12 photographers to register, with a wait list.

Link to upload is usually sent about 24-48 hours before the scheduled critique.

The ZOOM meeting link will be sent to all those registered.
Critiques are timed so everyone gets equal consideration. No work? No problem, observing is just as valuable.
Image Requirements
Upload up to 10 images
Jpegs only
2100 pixels on the long side
Include ALL metadata
Must be registered
Deadline to upload images – February 10 @ 10am EST
---