Date(s) - 06/16/2020
Time(s) - 6:30 pm - 7:30 pm
Why are collections in LR valuable to your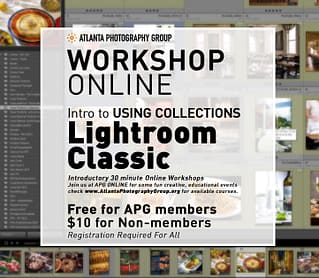 work flow? In this mini class, Judith will explain the difference between folders and collections and have your working on an easy way to organize and group your photos. It's quick, it's easy and it's a powerful LR tool.
This mini-workshop is part of a series that will provide small, easy to understand guided sessions that delve deeper into Lightroom's key features. Additional mini-workshops include best Lightroom best practices and step-by-step guides for: rating & sorting; collections; publish services; development module; creating LR presets; exporting; watermarks; and more.
This class will be held ONLINE. Registration is required.
Registration CLOSES – 2 hours before the class start time.
Dates: June 16, 2020
Time: 6:30-7:30pm
Cost: $FREE members / $10 non-members
Registration CLOSES – 2 hours before the class start time.
Information: This class will be held online. Logins will be sent to those registered.
Participants need access to ZOOM (accounts are free), and the ability to take some notes.
Instructor: Judith Pishnery
Workshop instructor Judith Pishnery has been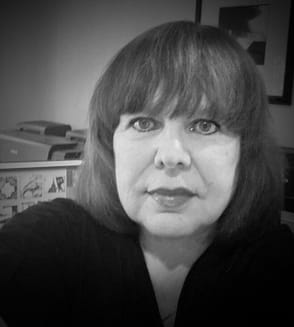 working with photographic digital technology to create fine art & commercial images for more than 25 years. She began using Lightroom in 2008 and has taught it in college courses, private classes and workshops for 10 years. She uses Lightroom regularly and stays up-to-date with new features and techniques. Judith will share her extensive Lightroom and photography knowledge and experience with you.
Her photographic work has been shown and collected internationally and can be viewed on her website.
You do not have to be a member to register for this workshop. If you are not a member but would like to become one, you can join here. If you are unsure of your membership status, please contact us at info@atlantaphotographygroup.org.
APG will refund up to 50% of the tuition fee if the cancellation is made up to one week before the workshop date. Cancellations with less than one week notice are not refundable.