Meredith Howard grew up in Atlanta and although she spent most of her days studying textbooks, every night she would scan Harper's Bazaar and Seventeen magazines for inspiration for her next day's outfit. Informed by this sustained love for fashion, Howard's photographs transform everyday people into models in unknowing editorials with a sense of warmth and appreciation. Along with being chosen by Juror Anna Walker Skillman to be in our Revealing The Real exhibit, MOCA GA also recently selected one of Howard's photographs from our Mary Stanley Selects show for their permanent collection.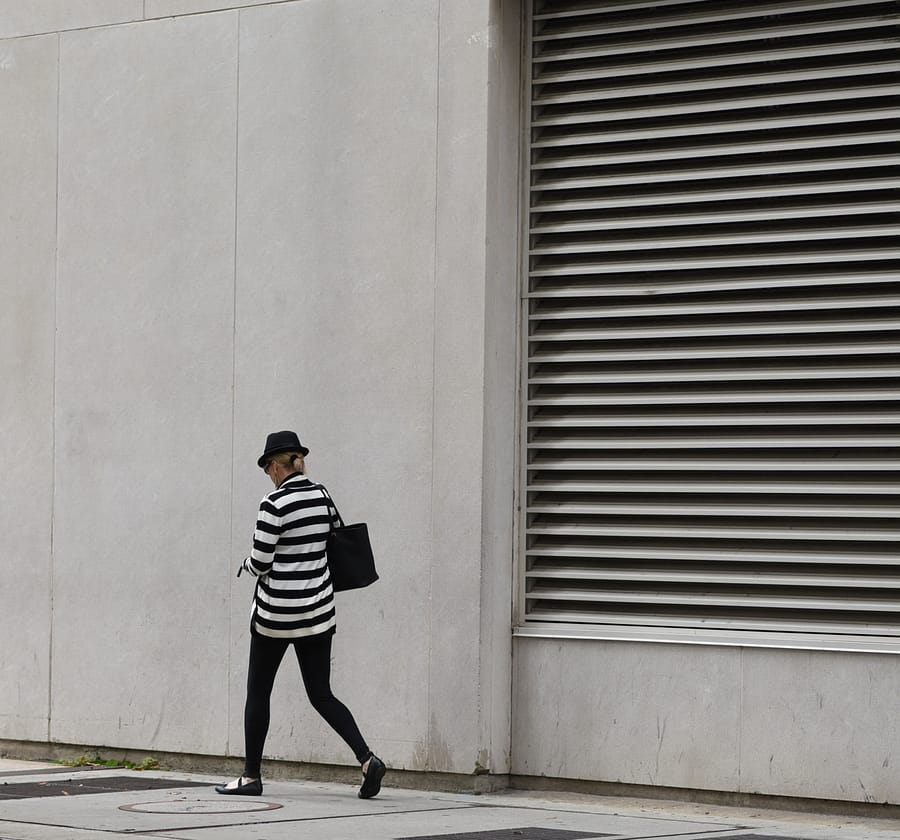 What is your take on the rise of street photography? And what do you think of that term?
I love street photography and its ability to connect people from communities that would not normally intersect.  A good photograph can build rapport between different types of people.  My favorite street photographs combine emotion, dress, movement, and environment in an artful way.  In 2011, I stumbled across an exhibit at the High Museum featuring photographs by Henri Cartier Bresson.  I was blown away.  At that time, I was so immersed in fashion blogging, which focuses on the outfit, that I had overlooked the art and the emotion of the photograph.
I don't think "street photography" is the most descriptive term that could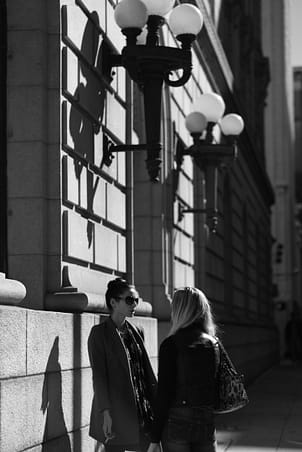 be used.  People outside of the art world don't even know what I'm talking about when I use that term.  I usually say that I'm taking pictures of strangers downtown.
Are you always working on your art, or do you make certain time for it? Is there a certain mood you need to be in to create?
I'm a big believer in momentum. I try to produce a lot of quantity. Action is clarifying. If I slow down, I get stressed out over little details that don't matter.  I'm an introvert and would never leave the house if I didn't force myself. So, I make myself go downtown once or twice each week to do street photography.  The first few photos are always hard, because I am being the weirdo who is taking pictures of strangers. (You have to have a slight disregard for social convention in order to be street photographer.) But people generally react positively, so that keeps me going. Now, I'm also working on portraits and street style photo shoots, so I can create what I wish would happen out on the street.  And because I am always at dance with my daughter, I've gotten into dance photography. I like to have several different projects going on at once.
What role does fashion play in your work?
I'm drawn to people who are expressing some sort of personal style. I've always been obsessed with the art of an outfit, so the camera gives me an excuse to over-analyze someone's clothes. The fashion blog The Sartorialist is the reason I started taking pictures. I was thrilled to discover that people would actually let you take their picture just because you were going to blog about it. The first photograph I ever took of a stranger was terrifying. But it was also exhilarating.
Lately I've found myself taking pictures of people who aren't necessarily fashionable but are just interesting. And sometimes I don't know why I'm taking their picture until later. It could be an expression or the way they are walking or the way they fit into their environment.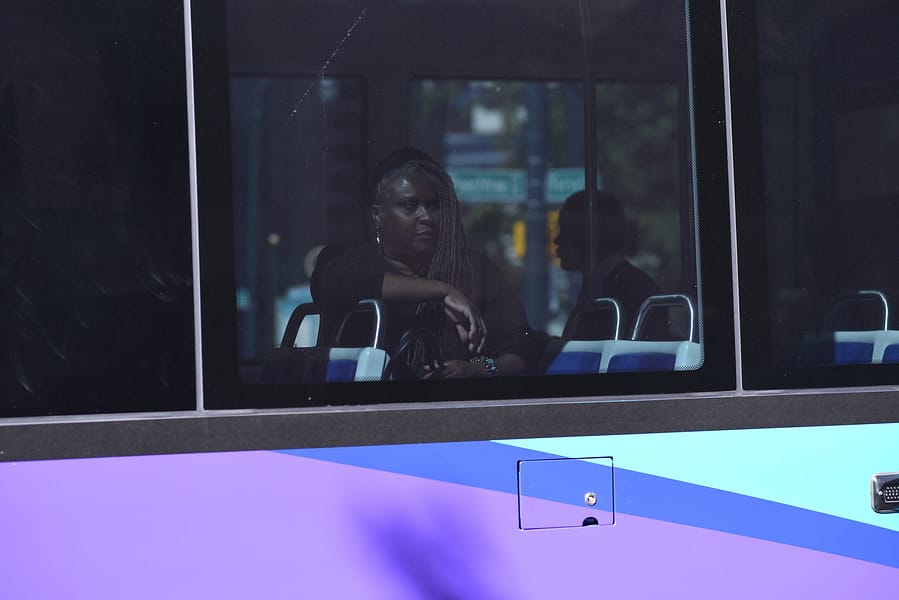 Can you tell me a memorable response you have had a photograph you've made?
I have had so many memorable responses. I think that's what keeps me going back.  I remember one day I stopped a Georgia State student and asked her if I could take her picture. She was walking with two guys and told them they could go on without her while I took her picture. I felt bad that I had caused the party to split up and was trying to hurry so she could catch up with them. But when I finished taking the picture she said, "Thank you. That made my day."  I try to size people up pretty quickly and took a risk one day with a guy that I wasn't sure would be happy about it. In the photo he looks incredulous.  "Did you just take my picture?"  he asked. I told him what I was doing, and he started laughing about how his picture must have looked. His expression is one of my favorites.
Then, there was a gentleman I saw smoking a pipe outside of his office on Poplar.  He looked perfect standing under a tree in front of a historical building, but I guessed he would object to having his picture taken.  So, I asked him, and he said, "No, no, no."  Since then, I've had several long conversations with him and one day he told me, "You should have just taken the picture."
Do you talk to the people you photograph? Do they talk to you?
I usually talk to the people I photograph.  I try to catch a candid photo of them, but if they look skeptical of me, I'll talk to them first.  So, either before or after I take the picture, I tell them what I like about them. Then, we end up having a short conversation. But sometimes if they seem to be in a hurry or seem OK with the whole situation, I'll just smile and wave.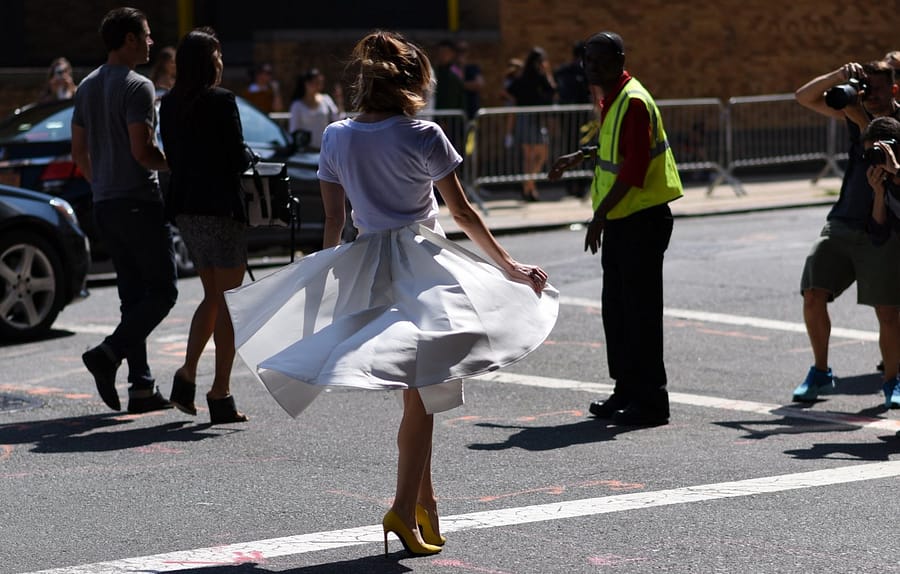 Do you have a favorite place, street, or city to photograph?
For content, my favorite place to photograph is New York City during Fashion Week.  Beautiful people dressed up in dramatically fashionable outfits traipsing around New York City.  It's heaven.  For connection and experience, my favorite place to shoot is in the Fairlie-Poplar district of downtown Atlanta. The people in Atlanta are just so nice. And that particular area is beautiful and very walkable.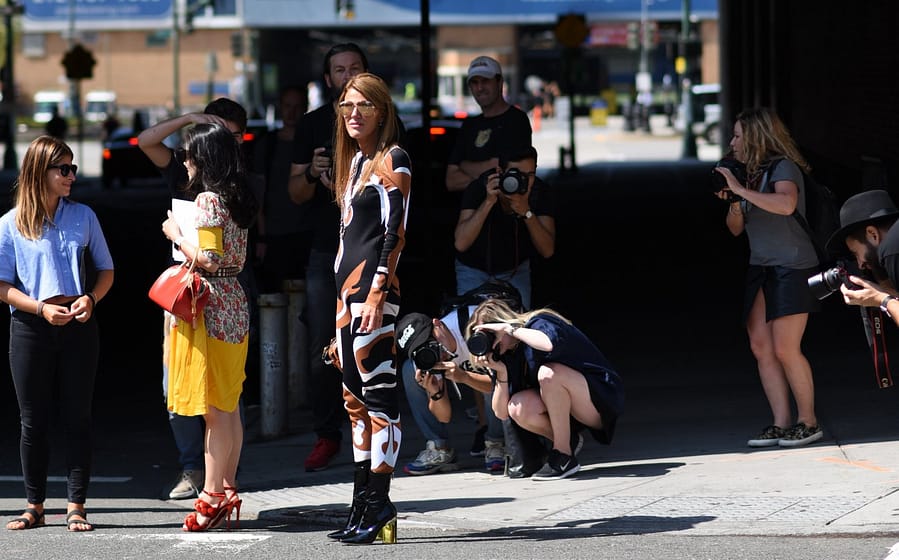 Read anything good lately?
I am constantly reading, listening to podcasts, and watching CreativeLive. My favorite books right now are Studio Anywhere by Nick Fancher and Creative52 by Lindsey Adler, because I'm working on portraits. Eric Kim's blog is a great resource on the craft and history of street photography. He is very open with his thoughts and his process. I'm also in the middle of Mastery by Robert Greene, which tells the stories of people who have made history by thinking differently than everyone else in their field.
How can people find your work on the web?
You can find me at MeredithMHoward.com. You can follow me on Instagram at Meredith_M_Howard or Twitter @MeredithMHoward. I try to post everyday on Instagram, but my thoughts are often too long for Twitter.