For APG's upcoming Presentation Techniques workshop,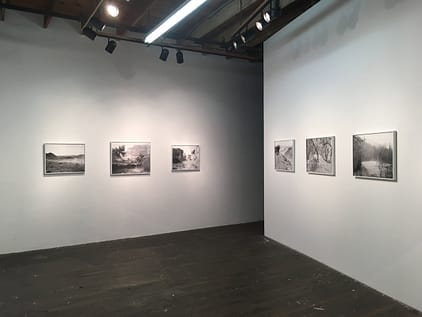 Erin Fender sat down with Allison Jarek to talk about the importance of traditional presentation methods, and what to expect from this workshop.
Why do you want to teach this class?
Over the years, I've coordinated and installed exhibitions, and I believe that presentation techniques are an important part of the artists' process that people can tend to forget about. Artist put a lot of work in their photographs, and the presentation should reflect that. In the gallery setting, the way that you present work can enhance the aesthetics and reflect the content of the work, or distract from it.
Is the focus of this class on traditional or alternative methods of presenting work?
I will be addressing both. I will come to talk about the most commonly used and practical techniques that galleries come to expect (like framing and mounting), while also exploring alternative methods. I think the thing that is most important is that the form reflects the content of the work.
As contemporary photographers and makers stray from traditional methods of presenting work, in your opinion, what is the case for the importance of traditional methods of presenting photographic work?
The newer, alternative methods are great, but it is important to have a well-rounded knowledge and foundation of traditional methods. Traditional methods of presenting work are a necessary professional tool. Most galleries and juried shows are expecting and requiring the traditional methods. But no matter what you're doing, whether traditional or alternative, it is good to utilize archival methods.
What do you hope participants will take away from the workshop?
I want them to think creatively about how they present the images. Think about the relationship between form and content, and the importance of archival techniques, while learning how to utilize common presentation techniques. Framing, mounting, and floating prints, and other alternative ways to make the print itself.
Allison Jarek is an American photographer whose work explores themes such as man's relationship with nature, female identity, and personal journeys. She received her MFA in Photography from Texas Woman's University in the spring of 2015 and her BFA in Photography from the Savannah College of Art and Design in 2011. Her work has been shown nationally, at venues such as SlowExposures, New Orleans Photo Alliance, the University of Central Florida, PhotoNOLA, and Clemson University, and featured in publications such as The Oxford American, FotoFilmic, SHOTS, The Hand, and South x Southeast Photomagazine. She currently lives and works in Atlanta, Georgia as an Adjunct Professor at the Perimeter College of Georgia State University and an Instructor at the Atlanta School of Photography.