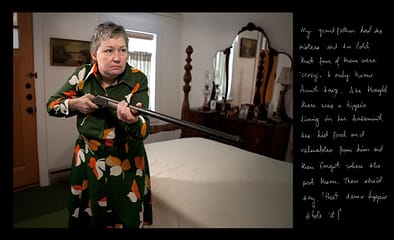 Starting in January, APG is launching Survey of Contemporary Photography, a three-part workshop presenting work from today's most influential photographic artists. Erin sat down with class instructor Beth Lilly to talk more about what to expect from this workshop.
Why did you want to teach this class?
This is the class that I always wanted to take. I would have loved for somebody whose opinion I respect, and who is knowledgeable, to look at everything that is going on in photography over the past year; weed out the non-interesting stuff, and present the most interesting, exciting, beautiful, inspiring work that's going on out there. Besides pure enjoyment, it's definitely the job of an artist, if you're going to excel in your craft and grow your understanding of the medium. Like any other industry, the art world also has trends. And even if you want to avoid trends, you have to know what they are in order to do so, right? There are voices, and there is a dialogue happening, and it's not just about subject or content, but how we are using photography. People are exploring new possibilities, and it can open your eyes to things you never thought of, and spark ideas of your own that may not have come about if you haven't seen some other work.  Viewing other work definitely triggers new and original ideas in my own work.
How did you develop an awareness around this greater dialogue happening in photography? What have you discovered about the artists at the forefront of what's trending?
Within the realm of photography, I have a broad range of real life experience. I have an MFA and been a passionate artist for decades but I've also worked in commercial and editorial photography, I've taught, I've curated, I've run a gallery. The very process of looking at art over and over and over makes your really sensitive to unique and strong voices [in photography]. This year, I'm seeing people with long careers, who are still making new and relevant work. It's also important to not just see what the latest, greatest is, not having one big series and being washed up, but someone who is growing and evolving in their career overtime.  I'm also amazed at how artists manage to make fresh and different takes on ancient genres like landscape, street photography, and portraiture.
As a curator, and portfolio reviewer, what's something you wish you would have told yourself in the early stages of your practice?
Looking at other work adds objectivity to what you're doing. It's so hard to find your voice. Seeing other work puts your own work in perspective. It gives you a sense of what work is there, what work is professional and complete, so you can train your eye, and re-evaluate your own work.
I want to emphasize that this class is going to be looking at a ton of work. I'm not going to mull over one artist or another. The class is really focused on gorging on work. But I will show artists' websites, and presentation of work, including installation photographs; because that is also a part of trends, and finding great ideas on how to do your work. How to structure your website; the best way to inform viewers what you are about, to play up your strengths, to look professional. The answer to so many of these questions is to look, look, look! Research, research, research!
What kind of artist do you have in mind for taking this class?
This is geared to artists who want to get their work seen. Whether that's through exhibition or publication. But it's also for the folks who love photography. If you're in the process of building your website, this is going to also be a great resource for you. There will be a lot of topical things within photography that we can expand upon as well.
There are so many things you pick up looking at lots of artwork: sequencing, scale, etc. You absorb these ideas even when you're not even consciously aware of them.
How do you challenge yourself to branch out and find new work, artists, publications?
I've always tried to spend a few hours each week online looking at what museums and art centers like APG are showing, cruising blogs and online mags. If I can, I really like to go to art fairs to see what people are actually buying. So, that's kind of always been apart of my art practice.
Register now for Survey of Contemporary Photography with Beth Lilly