Dale Niles was born in Norfolk, Virginia and raised in small North Carolina towns. She currently lives in Fayette County, Georgia. Niles has been the recipient of many awards over the last 10 years. She was a Critical Mass Top 200 recipient in 2018. Her series Animal Lives Redux was selected for The Fence exhibits in October 2018 and, most recently, won a bronze award at the Tokyo International Foto Awards. She is also one of the recipients of APG's 2018 Virginia Twinam Smith Award, for her image "Fish Plates and Bourbon," which was featured in the exhibition Rachel Reese Selects.
What is your photography background?
I really don't have a photography background. I've mostly taught myself everything, YouTube University [laugh]. I was a sociology major in school and then I interned as a probation officer when I came out of school, I got very disillusioned about the whole thing but I always got caught up on my art interest because I have painted, I have done clay work, I made jewelry. I have always taken photographs, but I was not taking them for any seriousness. About 10 years ago, I switched from film to digital, I started taking a couple of classes and my teacher encouraged me to show some work. The first show I entered, I won first in show. And I won the next one, as well. I thought, 'Well, maybe I have something,' and it blossomed from there. I came down to Atlanta and joined APG to start getting to know other photographers – which is the best way to learn.
"Pin Cushins"
How do you define your photography style?
I don't know if I have one style because I like to do not only straight photography but also montages and collages. People are surprised because my still life work is very graphic, but other series, like The Animals, are not. I stumbled upon stuff, that's how it happens. The Animals, for example, started kind of by mistake. The pictures were just like the ones that everybody took but then I started playing around. For example, I put the fox in front of the farm because I thought it was like the lord of the manor, sort of a formal portrait for an animal. And that started the series.
So would you say you have a lot of imagination?
I think so. I like the storytelling. Like the work I am with doing right now in Zebulon with Andrea, a woman with a doll collection: What Lies Within: The Eclectic Collection of Andrea Noel. It's a project that I started five years ago. She is 76-years-old, and I think she likes me coming down there. And not only do I take pictures, we take road trips. I have done every back road in Pike County. I have taken thousands of pictures, but I don't know if this is a project, yet.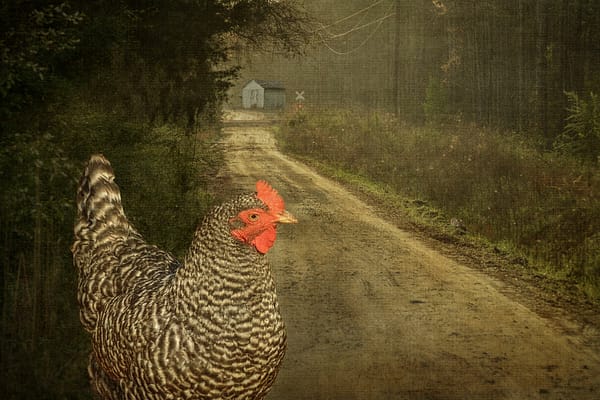 "Why?"
Do you like to work with a project in mind?
Yes, I have more-or-less four projects going on at the same time because I don't want to be bored. A lot of times when I am shooting, what I get is not what I intended to get. But one thing leads to another. I like those days when I have the time to just shoot because I feel this is when I get my best work. But it's the time factor that is hard.
"Fish Plates and Bourbon"
Do you have to work asides from your photography?
No, but all these shows I am entering is a full time job. I used to enter up to 30 shows a year but now I am trying to scale down. I have three framed shows sitting in my house, it's awful [laugh].
What benefits do you see of being a member of APG?
I think it is a good way to get exposure, because of the judges that come in, and, also, you commensurate with other photographers. Plus, I like the photography community. It is a very caring and sharing community.