APG's Donna Garcia took some time with Sarah Kennel learning about her role as Curator of Photography at the High Museum and her thoughts on the Dawoud Bey: An American Project exhibition.
Join us at APG ONLINE for a Virtual Field Trip and curator discussion of the exhibition – February 23 @6:30pm ET. Free for APG members, $10 for non-members. Register Now!
---
Sarah, can you tell us a little bit about your background, and how you came to be the Keough Family Curator of Photography at the High Museum?
My initial experience with working with photography dates back to my days as a post-doctoral fellow at the National Gallery of Art. I had not studied photography and had written my dissertation on something completely different but was fortunate enough to land an internship in the photography department there, where I worked on an André Kertész exhibition. I essentially stayed in the department until a job opened up as an exhibition assistant and continue to work on photography exhibitions and learn the history of the medium. After a decade or so, I took a new position at the Peabody Essex Museum in Salem, Mass, where I spent 4 years delving into a very different kind of collection, with a specialization in Asian photography. But when a new role opened at the High Museum in 2019, it seemed like the right fit: a renowned photography program with strengths in American art, civil rights, documentary and contemporary work and a commitment to doing thoughtful, provocative exhibitions. Plus, I missed spring—Massachussets went pretty much straight from winter to summer, sometime in the middle of June.
What other programs or exhibitions аre you and the High Museum working on currently for 2021 as it pertains to exhibiting lens-based work?
Currently we are hosting a fabulous show of Dawoud Bey's work, through March 14 and a month later, opening April 17, we are putting on an exhibition of photographs by women, drawn almost entirely from the collection. It is focused on work made in the last century and was conceived to coincide with the 100th anniversary of the passage of the 19th amendment in 2020, but with the closure of the museum last year, we delayed until 2021. I'm particularly excited to exhibit a significant number of photographs that have not been on view before and to show the work of both well-known and little known artists.  At the end of 2021, my colleague Greg Harris will mount a major show celebrating 25 years of the High's Picturing the South commissioning initiative, bringing together 16 projects made since 1996 (including three new ones). Hopefully by then we will also be hosting public events and programming and bringing all of these important photographers to the museum .
Talk to us a bit about the amazing Dawoud Bey exhibition currently showing at the High through March 14, 2021 and the process of curating that show?
This show was organized by my terrific colleagues Corey Keller (Curator of Photography at SF MOMA) and Elisabeth Sherman (Assistant Curator, Whitney Museum) and serves as a focused retrospective of Bey's art, from his earliest works made in Harlem in the 1970s to his most recent series, "Night Coming Tenderly, Black," an imagining of the experience of a fugitive enslaved person navigating the Underground Railroad in search of freedom. The show really highlight's Bey's incredible gift for connecting with his subjects and for honoring and amplifying the beauty and dignity of Black life in America.  Although the show was curated by my colleagues, because we have such a rich collection of Bey's work at the High we put in many of our own pieces, particularly in one of my favorite sections, his multi-panel portraits made with the Polaroid 20×24 camera. These magnificent works absolutely glow with a kind of inner light, as if he's channeling Rembrandt.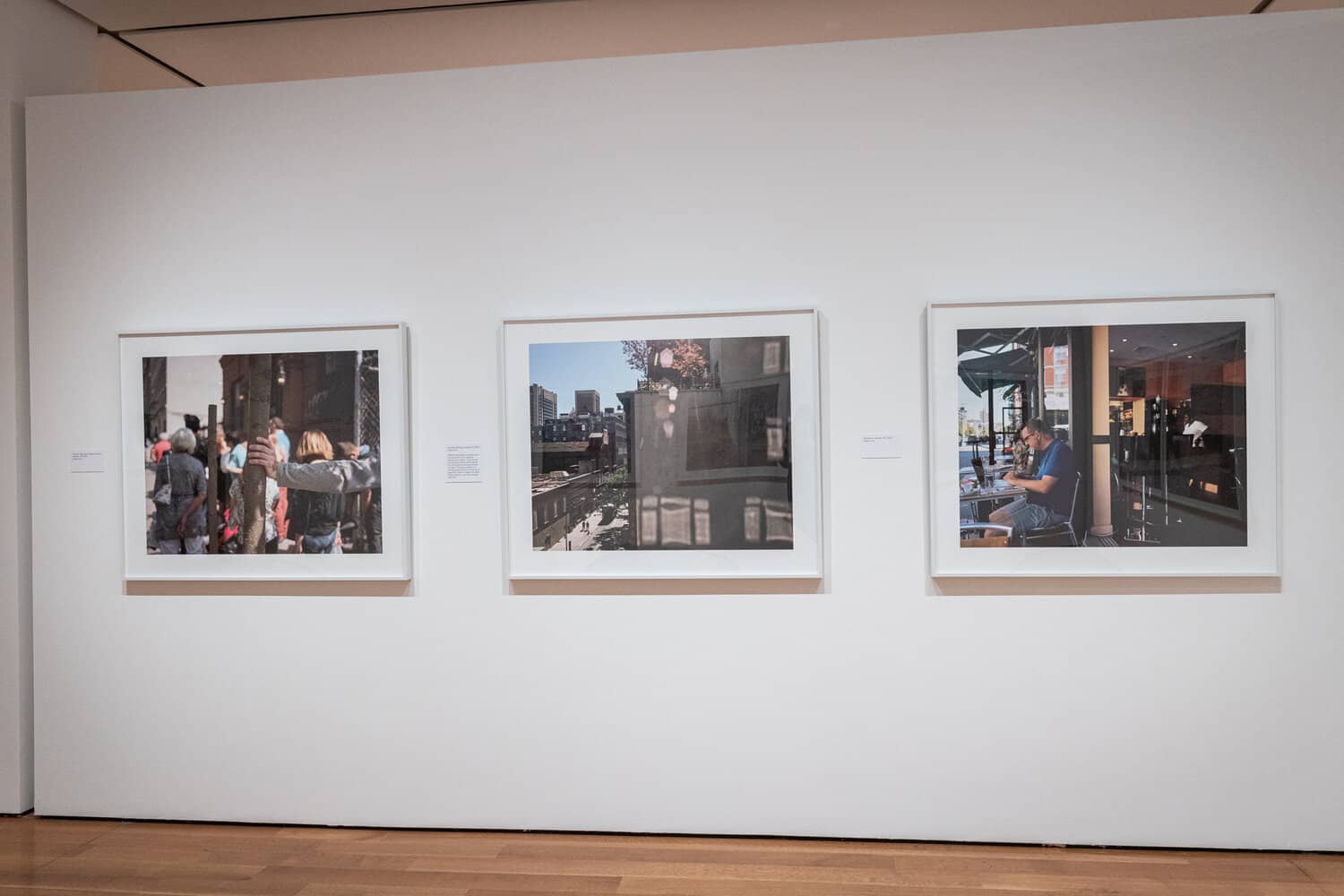 As 2021 continues to be an anomaly, the Atlanta Photography Group and the High Museum аre collaborating to offer a customized, virtual tour of the Dawoud Bey exhibition for APG members, with you as the virtual guide. Tell us a bit about how that will work and the experience for virtual visitors?
The museum is open, with its usual hours and has put into place social distancing and hygiene protocols to keep our visitors healthy. We encourage people w to see the exhibition in person if they can, but the virtual tour is designed to give an overview of the entire show and will focus on several photographs in each of the exhibition's sections in order to give an overview of the show and more broadly, Bey's achievements as an artist.
Which current art making and cultural trends might we see in this year at the High Museum?
Our program for 2021 highlights the museum's commitment to diversity and inclusion in a big way. In addition to the photography shows on Bey and on women artists, the High just opened a show of the works of David Driskell, a renowned artist, scholar and patron of African American art. He is so well known for his towering importance to the field of African American art, but this is a chance to see his own artistic talent on display. And then in the fall, Katie Jentleson, our curator of Folk and Self Taught art, is putting on a big show of the work of Nellie Mae Rowe, one of the collection's most beloved and important self-taught artists, and again I think bringing her work to prominence will open many eyes and continue to challenge the outdated boundaries between mainstream and "self-taught" artists—this is an area (so called vernacular photography( that in photography has been amazingly rich in the past decade as well.  And will continue to offer a rich variety of art exhibitions, everything from immersive video pieces to modernist French art
Which artists, writers, academics, curators, and other creative thinkers have influenced your curatorial?
Too many to note here, I'm sure, but lately I've been focusing (like so many of my colleagues) on learning more about histories that have long been ignored. I just got Deborah Willis' book on the Black Civil War Soldier, and am making my way through Shawn Michelle Smith's newest book Photographic Returns. My colleague Andrea Nelsons' exhibition catalogue "The New Woman Behind the Camera" has opened my eyes to the incredibly rich, diverse, global phenomenon of women entering photography in the period between the world wars, while the Virginia Museum of Fine Art's catalogue for their show "Working Together: Louis Draper and the Kamoinge Workshop" is just chock full of treasures—that was the last museum exhibition outside of Atlanta that I was able to see before we all stopped traveling. In terms of broader theory on contemporary photography, Kate P. Albers writes incredibly thoughtfully and if I want to read the most beautiful words by a photographer, it's hard to beat Robert Adams.
What are the best ways to support the High Museum this year?
Please join if you haven't—we have a 4$/month membership plan (less than a coffee at Starbucks!) and please buy your books and gifts in our bookstore. Every little bit helps. But also, please attend our talks, check out our website and come see our shows if you can and stay engaged. We are not going away and we love to hear from you.
Can you tell us what your wishes are for the future of the Keough Family Photographic Collection at the High Museum and how you see it beyond 2021?

I am incredibly fortunate to steward this collection, along with my colleagues in the Photography Department, and I look forward to continuing to build it. We'd like to continue to focus on our strengths in civil rights photography but expand in by including more work by women and Black artists as well as expand it into the present, as we have done with the acquisition of Sheila Pree-Bright's work. I'd love to build our 19th century Southern holdings a bit more so that we can confidently say that we have the best Southern photography collection in the nation. I'd like to expand our holdings of vernacular and self-taught photography as well since this is an area of focus at the museum and most of all, I'd like to continue bringing really smart, strong and appealing photographs by a rich variety of makers into the collection. But beyond acquisitions, we'd like to get our work and scholarship on the walls and into the community: exhibitions, books, talks, exchanges, collaborations, discussions, what have you. The blessing of our turn to the virtual is that we can in fact do a lot more of this than we had imagined, in a way that is limited only by our time, desire and bandwidth (literal as well as figurative).
---
Virtual Field Trip: Dawoud Bey: An American Project
Virtual Curator talk: February 23, 6:30pm ET
REGISTER FOR THE CURATOR TALK > HERE
---
Sarah Kennel – Bio
Sarah Kennel is the High Museum of Art's Donald and Marilyn Keough Family Curator of Photography. Kennel joined the High in July 2019 from the Peabody Essex Museum (PEM) in Salem, Mass, where she oversaw an extensive collection of photographs dating from 1839 to the present and managed an active and globally oriented photography program.
While at PEM, she co-curated the critically acclaimed touring exhibition Sally Mann: A Thousand Crossings, organized by PEM and the National Gallery of Art, which opened at the High in October 2019, as well as Order of Imagination: The Photographs of Olivia Parker; 'A lasting memento: John Thomson along the River Min; and permanent collection installations. At PEM, she developed the first strategic plan for the photography department and spearheaded important gifts. Kennel previously served for nine years as a curator at the National Gallery of Art in Washington, D.C., where she helped oversee the photography collection and manage an active exhibition, acquisition and research program. Highlights include exhibitions and accompanying catalogues for Charles Marville: Photographer of Paris (2013), Diaghilev and the Golden Age of the Ballets Russes, 1909-1929: When Art Danced with Music (2013), The Serial Portrait: Photography and Identity in the Past 100 Years (2012), and In the Darkroom: Photographic 3 Processes before the Digital Age (2009).
As an art historian, Kennel has written and contributed to many publications, including the catalogue for Sally Mann: A Thousand Crossings (with co-curator Sarah Greenough of the National Gallery of Art), which was awarded best photographic book at the 2018 Festival International du Livre d'Art et du Film. She has taught at Princeton University; the University of California, Berkeley; and George Washington University, and her numerous fellowships and awards include the Samuel H. Kress Postdoctoral Curatorial Fellowship and the Mary Davis Predoctoral Fellowship at the Center for the Advanced Study in the Visual Arts, both at the National Gallery of Art, Washington, D.C. Kennel earned a doctorate and a Master of Arts in art history from the University of California, Berkeley, and a Bachelor of Arts from Princeton University.