Date(s) - 10/12/2023
Time(s) - 7:30 pm - 8:30 pm
Location
Michael C Carlos Museum of Emory University - Ackerman Hall
APG is pleased to be co-sponsoring this artist talk discussing how matters of identity, community, and history are explored through photography. Join Atlanta-based photographers Victoria García and José Ibarra Rizo in a conversation moderated by Yami Rodriguez, assistant professor in Emory's Department of History as they discuss southern Latinx representation through photography, approaches to creating narratives, and the possibilities for how this work may be thought of as an archive, a place where specific stories and moments in time can connect a past, present, and future Latinx South.
This program is offered in conjunction with the exhibition, You Belong Here: Place, People, and Purpose in Latinx Photography, on view through December 3, 2023.
It is free and open to the public, but if you are planning on attending in person, please register HERE.
If you would prefer to attend this virtually, please register HERE.
Parking is free on Emory's campus after 6 p.m., and the galleries will be open for viewing from 6:00 – 7:30 p.m.
This program will be closed captioned in Spanish.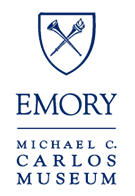 Michael C. Carlos Museum
Set in the heart of Emory's Atlanta campus, the Michael C. Carlos Museum is a dynamic, interdisciplinary center for the study of art and culture, with collections from Africa; ancient Egypt, Nubia, and the Near East; ancient Greece and Rome; the Indigenous Americas; and South Asia; as well as American and European Works on Paper.
Through their permanent collections, engaging special exhibitions, and innovative programs for audiences of all ages, the Carlos Museum connects the past with the present and the campus with the community. The museum is committed to emphasizing diverse voices, perspectives, and disciplines.
Curators and faculty develop original exhibitions, engage in interdisciplinary research and teaching, and host touring exhibitions that complement their collections and support the teaching mission of the university. The museum's conservators collaborate with staff, faculty, and students to conduct research and manage preventive care on the museum's varied collections. Museum educators reach across the museum, campus, and city to develop opportunities to engage the intellect and the imagination of university students and faculty, preK-12 students and teachers, and the larger Atlanta community.
Website: https://carlos.emory.edu
Aperture
Aperture is a nonprofit publisher that leads conversations around photography worldwide. From our base in New York, Aperture connects global audiences and supports artists through our acclaimed quarterly magazine, books, exhibitions, digital platforms, public programs, limited-edition prints, and awards. Established in 1952 to advance "creative thinking, significantly expressed in words and photographs," Aperture champions photography's vital role in nurturing curiosity and encouraging a more just, tolerant society.
Website: https://aperture.org