Date(s) - 07/11/2021 - 08/15/2021
Time(s) - 8:00 am - 11:59 pm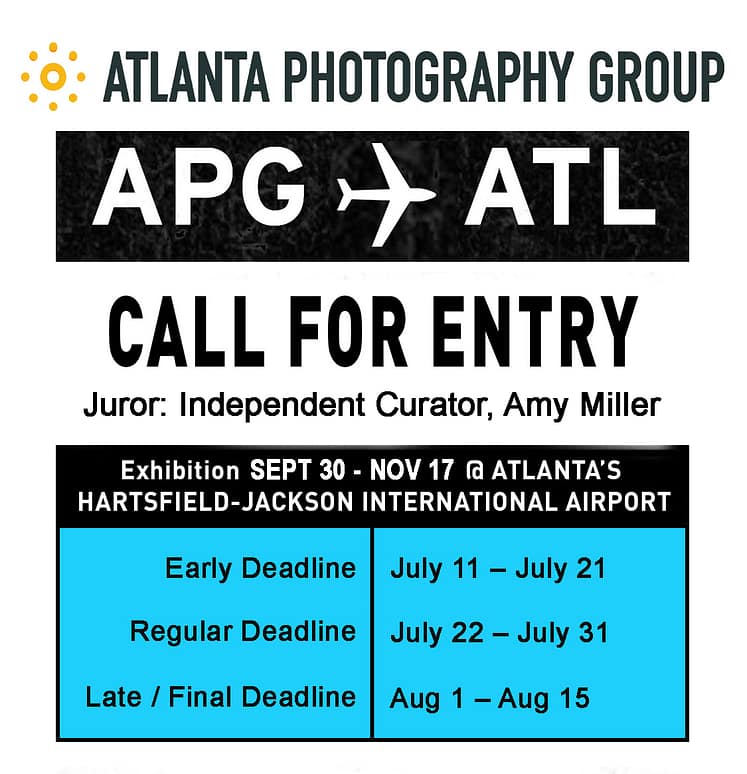 Atlanta Photography Group (APG) is now taking entries for our annual Airport Show. Juror Amy Miller will select 30 photographs to exhibit in the central atrium of the world's busiest airport: Hartsfield-Jackson Atlanta International Airport (ATL). ATL has an average of 260,000 visitors a day, making this an opportunity to have your photographs seen by literally millions of travelers from all over the world.
This exhibition will be featured in Atlanta Celebrates Photography (ACP) Festival Guide and work will be for sale – artists receive 60% commission.
APG along with Hartsfield Jackson airport will handle the framing and installing of the artwork. Artists will supply high resolution digital images to APG, and pay a nominal fee for APG to produce a high-quality archival pigment print. (see details for more information).
All image files must meet these specifications:
20×26" paper size and aspect ratio (paper only). The Airport uses their own frames.
APG can make the prints.
All images will have WHITE border around the image.
The border will be approx. 1", but will vary based on the size and aspect ratio of the actual image.
All images will be printed full image, no cropping.
Scholarships
APG offers need-based Scholarships for all of our exhibitions that will cover the submission entry fee. Don't let a lack of funds prevent you from sharing your vision with the world. Be a part of the photography community and show your work today. Click HERE for more details.
Juror: Amy Miller
Amy Miller holds a BFA from University of Georgia and an MFA in photography from Pratt Institute. Miller worked at the Alan Klotz Gallery in New York and was the Gallery Director for Fay Gold Gallery in Atlanta. She became Executive Director of Atlanta Celebrates Photography (ACP) in 2007. Miller has been a reviewer for many national portfolio review events, served as juror for numerous art and photography competitions, and curated numerous exhibitions, including an exhibition for a photography festival in China.
Entry Information
Early Entry: July 11 – July 21 (enter early and include a BONUS image)
3 works: $30, 5 works: $40, 7 works: $50, 9 works: $60
Regular Entry: July 22 – July 31
2 works: $30, 4 works: $40, 6 works: $50, 8 works: $60
Late Entry: August 1– August 15
2 works: $35, 4 works: $46, 6 works: $57, 8 works: $68
Notifications of Selections: On or about August 23
Deadline to deliver digital images file to APG: August 31
Exhibition Dates: Sept 30– Nov 17, 2021
AIRPORT SHOW 2021 – ENTRY – INFORMATION
Prepare Text File and Images
Entries not meeting the following criteria will be disqualified.

Jpeg files only. No borders. No watermarks or names on the image.

Entries of between 2 and 9 images depending on which package you choose.

Size to 2100 px on the longest side. Larger files will be disqualified.
Individual files only, do not upload a folder or zip folder.
How to resize digital image files

Rename files to the title of the work exactly as you wish it to appear (Example: My Great Photo.jpg). Your name will be automatically prepended (added) to each file upon upload.

File names should be letters and numbers only, please only use _ or – as symbols, do not use any other symbols in file names.

Create a text file with your – Word doc or PDF only :

Personal Info (name, email, phone, website/social media),

Artist Statement (500 words max),

Bio (250 words max), and

Image list (in this order: Title, Year piece was created , Print/Image Size (H x W), estimated Framed Size (H x W) Medium (archival pigment print, inkjet print, silver gelatin, cyanotype, etc),

Save this file as a Word doc (.doc or .docx) or PDF, – .pages files are not accepted.

After you have paid the entry fee you will receive an automatic confirmation email that will have the upload link for your files.

You will receive an automated confirmation email from Dropbox if your files uploaded properly. If you do not get the confirmation please contact us gallery@AtlantaPhotographyGroup.org

If you have any questions or need assistance, please contact APG gallery@AtlantaPhotographyGroup.org
Upload Text File and Images
Upload link in payment confirmation email.
Be sure you have completed the entry form/payment (see above) and are a current APG member.
You will receive a payment confirmation email and an email
with THE LINK TO UPLOAD YOUR FILES.
Read info above for file size, naming and other important information.
Entries are accepted and processed ONLINE only. We do not accept email, mail or paper entries.