Date(s) - 01/26/2020 - 03/13/2020
Time(s) - 12:00 am - 11:59 pm
Location
Atlanta Photography Group
Atlanta Photography Group (APG) is now accepting entries for Choice 2020.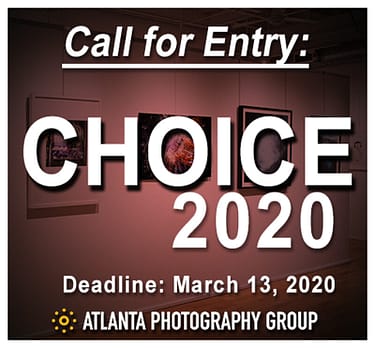 This non-juried exhibition is open to all current members of APG. Simply register below to secure space on the walls for your work, upload your images to the link in your confirmation, then deliver your framed photograph by March 14. Artists can include up to two framed works in this exhibition. This is your chance to show a personal favorite, maybe you have a wonderful image that just doesn't fit in with a series, or you want get feedback on a new direction. It's your choice!
Timetable
Deliver work to APG Gallery: by March 14, 2020, regular gallery hours
Show Dates: March 21 – April 18, 2020
Opening Reception: Saturday, March 21, 3 – 5pm
Frame Loan Program
Please take advantage of our Frame Loan Program. Drop by the Gallery to look through our selection of quality black wood frames to see if one will work for your piece. These frames are available for check out for a small fee (100% of which will be used to replace frames as they age).
Scholarships
APG offers need-based Scholarships for all of our exhibitions that will reduce the submission entry fee. Don't let a lack of funds prevent you from sharing your vision with the world. Be a part of the photography community and show your work today: Complete this simple form.
Guidelines
Each artist may enter 1 or 2 pieces in the exhibition

Must be a current APG member – join or renew now

Artwork cannot have been exhibited in the APG Gallery before but may have been in Airport Show, Pushpin or Off-site exhibitions.

Artwork must have been created within the last ten years.

All photographs must be delivered by the deadline framed and matted, or mounted and ready to hang, with either hanging wire or cleat attached. $10 fee if APG has to add cleats or wire. Please see the artist information for framing & pricing specifics.

Framed dimensions may not exceed 44" on any length.

Artists must submit images that were registered.
First: Purchase Entry Fee
Early entry (Jan 14 – Feb 9): 1 piece $30, 2 pieces $54 (Sold Out)
Regular entry (Feb 10 – Feb 29): 1 piece $40, 2 pieces $64 (Sold Out)
Late entry (March 1 – 13): 1 piece $45, 2 pieces $69
Your entry fee helps to support our non-profit arts institution dedicated to photography & photographic education. Fees raised through all entry calls goes toward supporting APG's programs, and our free public gallery.
Select One – Number of works:
---
Third: Upload Images
Use the link in your order confirmation

Export images as .jpg. Resize to maximum 2100 px on the longest side.
Rename files to the title of the work, exactly as you wish it to appear (Example: My Great Photo.jpg) Your name will be automatically prepended to each file upon upload.

Once you have verified your membership, paid the entry fee, created your wall labels and uploaded your files, you are all set.
Please read through all of the instructions. If you have questions, contact the gallery.
Presentation Requirements

Printing Tips & Requirement

Print Medium definitions

Framing Tips

Pricing Tips

Exhibition Labels (on complete if you are selected for the exhibition)

Liability & Agreement

Shipping / Delivery Instructions

Resources