Date(s) - 01/11/2020 - 01/25/2020
Time(s) - 6:00 pm - 4:00 pm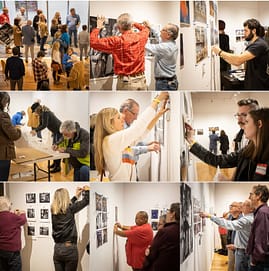 33nd ANNUAL – PUSH PIN PARTY/Exhibition
Exhibition dates: January 11-25, 2020
Party date: Saturday, January 11, 2020 at 6:00pm
Kick off the new year with a FUN Event! Join us for the 33nd Annual Atlanta Photography Group (APG) Push Pin Party. Photographers are invited to pin up their best, fun, creative prints at our biggest community event of the year! PushPins are provided for participants.
PARTY!
Come enjoy a slice of pizza & a beer. Bring a friend!
Meet & mingle with APG's vibrant photographic community.
JUDGES!
Push Pin will feature two judges to select this year's awardees. The judges are: Barbara Griffin & Mark Schoon
Judging begins at 7:30pm and winners will be announced about 8:00pm. You must be present to claim your prize!
AWARDS AND PRIZES!
The jurors will choose three winners to receive a first, second and third place prize.
1st place: $100 tuition credit to APG classes or workshops, 1 APG Membership

2nd place: $50 tuition credit to APG classes or workshops and APG membership

3rd place: $25 tuition credit to APG classes or workshops

More prizes to be announced.
People's Choice Award:
Everyone will have the chance to vote for their favorite photos! The top 3 People's Choice artists will be announced after the jurors' awards. The artist that receives the most votes by 8pm will win a waived entry fee into an APG juried exhibit, and a $50 tuition credit to an APG class or workshop.
GUIDELINES
Free for APG members, entry fee of $10 for Non-members

CLOSED —-SKIP THE LINE! Register before 4pm on Jan 11, 2020

Members – Register in Advance (Register below)

Not Yet Members can also register in advance and skip the line. (Register below)

Join APG – and have opportunities for exhibitions, workshops and events – all year.

Doors open and 'push pinning' begins at 6:00pm

Space is available on a first come basis

Volunteers may pin up photos prior to opening! We need volunteers – sign up here.

Unframed, unmounted prints only

Quantity – as many prints as will fit on 24" x 24" space (8×10 up to 24×24). Please NO prints smaller than 8×10.

Artists can sell their work – no gallery commission on PushPin sales.

We require two sets of wall labels: one set for the back of your prints, and one set for the wall.

Buyers can take home prints at time of sale.
BE PREPARED
Complete labels in advance to beat the crowd! Labels must include: artist name, title of image, price.
Link to blank label will be available in your email registration confirmation! 
PICK UP PRINTS
The exhibition closes on January 25th at 4pm. All prints must be picked up during regular gallery hours: Tues-Fri, 12-4pm, January 29-February 2nd. Prints not picked up by 02/25 will be discarded.
To Do:
1. Register in Advance: SKIP THE LINE!
Register now!

Print out a copy of your registration and bring it with you on 01.11.20 to Skip the Line!
2. Second: Prepare Images & Labels
8×10" up to 24×24" prints, you will have a maximum of 24×24" of wall space

Complete a pair of labels for each image. Link to blank label will be in your registration confirmation email.
3. Third: Join us at APG on 01.11.20 for the PARTY!
Register online by 4pm – Skip The Line when you arrive.
REGISTER NOW! SKIP THE LINE
Online registration is now CLOSED – you may register ON SITE
Membership is not required for this event.
Current APG members are free to participate

Not Yet Members are $10
If you are not a member, register to become an APG member. If you are uncertain, contact us at info@atlantaphotographygroup.org.
BLANK LABEL LINK will be in your registration confirmation email.
Entry fees are non-refundable.
Membership will be confirmed.