Date(s) - 01/25/2021 - 02/07/2021
Time(s) - 12:00 am - 11:59 pm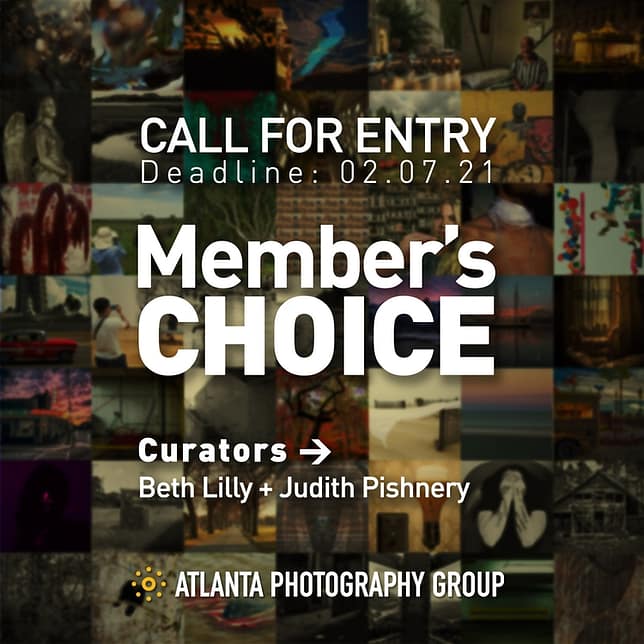 Atlanta Photography Group (APG) is now accepting entries for Member's Choice 2021. The 2021 exhibition will be curated by Beth Lilly (former APG Executive Director) + Judith Pishnery (APG's current Executive Director) from the entries.
This curated exhibition is open to all current members of APG. Register below to secure space in the exhibition and on the walls for your work [Location to be announced soon!]. The curators will choose 1-2 images from each member entry, each photographic artist who enters is assured of inclusion in this exhibition.
The process is easy, simply upload up to 5 of your images to the link in your confirmation, no later than February 7, 2021 @ 11:59pm ET. The curators will then choose 1 or 2 images from each entry. You will be notified of the selections by February 14, 2021.
You will need to be then deliver your framed, presentation ready photographs by March 2, 2021. This is your chance to show a personal favorite, maybe you have a wonderful image that just doesn't fit in with a series, or you want get feedback on a new direction. It's your CHOICE!
Timetable – all dates subject to change
Deadline for Call for Entries: Feb 7, 2021 @ 11:59pm ET.
Notice of selections: Feb 14
Deliver work to APG Gallery: on or before March 2, 2020, – info will be the selection email
Show Dates: March 6 – April 10, 2021
Opening: Saturday, March 6, 12 – 5pm
Virtual Event & Artist Talk: Thursday, March 11 @ 7pm ET
Guidelines
Each artist may enter up to 5 images
Curators will choose 1 or 2 images from each entry
Must be a current APG member – join or renew now
Artwork must have been created within the last ten years.
All photographs must be delivered by the deadline framed and matted, or mounted and ready to hang (hanging wire is required – no cleats). $10 fee if APG has to add cleats or wire.
Please see the artist information for framing & pricing specifics. We have a list of frames that are NOT acceptable.
Framed dimensions may not exceed 44" on any length.
Artists must submit images that were selected
Enter Now
Early Entry: Jan 25 – Jan 31 // $25 for up to 6 images
Regular Entry: Feb 1 – Feb 7 // $25 for up to 5 images
Your entry fee helps to support our non-profit arts institution dedicated to photography & photographic education. Fees raised through all entry calls goes toward supporting APG's programs.
Upload Images – follow the directions
Use the link in your order confirmation
Export images as .jpg. Resize to maximum 2100 px on the longest side.
Rename files to the title of the work, exactly as you wish it to appear (Example: My Great Photo.jpg) Your name will be automatically prepended to each file upon upload.
Once you have verified your membership, paid the entry fee, and uploaded your files, you are all set.
You will receive the confirmation of your selected images on or before Feb 14.
Curators
Beth Lilly
Beth Lilly is an artist, curator, teacher and the former executive director for Atlanta Photography Group. An exhibiting artist for over 30 years, recent exhibitions include Spalding Nix Fine Art, New Mexico Museum of Art, The High Museum of Art, the Zuckerman Museum, Whitespace Gallery, the Atlanta Contemporary Art Center, and MOCA GA. Her work resides in the permanent collections of the High Museum, the New Mexico Museum of Art, The Ogden Museum of Southern Art, MOCA GA, the Metropolitan Atlanta Arts Fund and many private collections. She has taught photography for both Kennesaw State University, the Art Institute of Atlanta and the High Museum. Her critically acclaimed performance/interactive project "The Oracle @ WiFi" was published by Kehrer Verlag in 2012. Lilly earned a MFA in Photography from Georgia State University and an A.B.J. in Telecommunication Arts from the University of Georgia.
Judith Pishnery
Judith Pishnery, a professional photographer, curator, educator and arts administrator, serves as the Executive Director at the Atlanta Photography Group, Atlanta's oldest photography art organization and gallery. She received an M.A in Commercial Photography and an MFA in Photography from the Savannah College of Art & Design (SCAD).
With an extensive educational background as a photographic professor at numerous art colleges and creative programs, Judith mentors aspiring and mid-career photographers. She leads photographic workshops to Italy, France and Portugal, including a few in the US. In addition, she teaches creative processes, portfolio and project development, along with helping artists navigate the business side of commercial and fine art photography. Her decades of experience in photography allow her to combine the worlds of photography, business, art, history, travel and exploration for the creative mind of her students.
Judith has also been involved with Atlanta Celebrates Photography. She was a key part of the early planning sessions for ACP, beginning in 1998 and served on the Board of Directors and the Advisory board.
Scholarships
APG offers need-based Scholarships for all of our exhibitions that will reduce the submission entry fee. Don't let a lack of funds prevent you from sharing your vision with the world. Be a part of the photography community and show your work today: Complete this simple form.
Please read through all of the instructions. If you have questions, contact the gallery.
Presentation Requirements
Printing Tips & Requirement
Print Medium definitions
Framing Tips
Pricing Tips
Exhibition Labels (on complete if you are selected for the exhibition)
Liability & Agreement
Shipping / Delivery Instructions
Resources