Date(s) - 03/08/2021 - 04/19/2021
Time(s) - 6:00 pm - 11:59 pm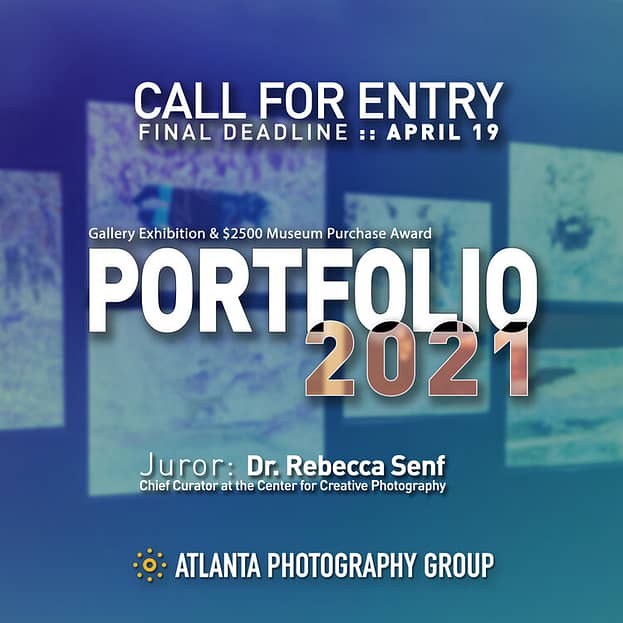 FINAL DEADLINE :: APRIL 19, 2021
Atlanta Photography Group (APG) invites photographers world-wide to enter images using any photographic process for our upcoming juried exhibition, "Portfolio 2021". This exhibition features strong, cohesive bodies of work.
Dr. Rebecca Senf, Chief Curator at the Center for Creative Photography, Tucson, AZ, joins APG as the Juror for "Portfolio 2021". Dr. Senf will select photographic works from up to 8 artists for the exhibition.
All exhibiting artists are be eligible for the 2021 APG/ Museum Purchase Award of $2500, which is slated for placement into the High Museum's permanent collection.
Juror – Dr. Rebecca Senf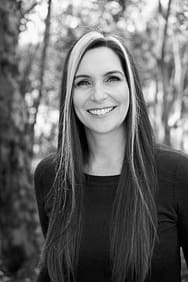 Dr. Rebecca Senf is Chief Curator at the Center for Creative Photography at the University of Arizona, in Tucson. Her B.A. in Art History is from the University of Arizona; her M.A. and Ph.D. were awarded by Boston University. In 2012, her book Reconstructing the View: The Grand Canyon Photographs of Mark Klett and Byron Wolfe was released by University of California Press; in 2017, her book To Be Thirteen, showcasing the work of Betsy Schneider, was published by Radius Press and Phoenix Art Museum. Senf is an Ansel Adams scholar, and recently published a book on Ansel Adams's early years, called Making a Photographer, copublished by the CCP and Yale University Press.
APG/Museum Purchase Award
One artist will be selected, from those chosen by the juror for the exhibition, to receive the 2021 APG/ Museum Purchase Award of $2500. Each year, a museum curator reviews the exhibition and selects works from one artist for the Museum's permanent collection. APG purchases the work and donates the pieces to the museum. The Portfolio 2021 purchase award is slated for the High Museum of Art.
High Museum of Art
The High Museum of Art is home to the most significant photography program in the American Southeast. The Museum began acquiring photographs in the early 1970s, making it one of the earliest American art museums to commit to collecting the medium. Dr. Sarah Kennel oversees the photography department, including related exhibitions and programs, as well as its collection of more than 7,000 works spanning the 1840s to the present. With strengths in American modernist and documentary traditions from the mid-20th century and a robust commitment to contemporary practice, the photography collection features a strong base of pictures related to the American South, which are situated within a global context that is both regionally relevant and internationally significant.
Entry Criteria:
Must be an APG member to enter. Join or renew now

The entry must be a body of work consisting of 6 or more images.
Timetable: (dates are tentative and subject to change)
Accepting Entries:  THRU – APRIL 19

FINAL Deadline for Entries: April 19, 2021 @11:59pm

Judging: April 21 – April 30, 2021

Photographic Artist Notification: May 3, 2021

Art Delivery Deadline: TBD

Exhibition: TBD
Purchase Entry Fee
Early Entry: March 8 – 15, 2021(discounted rate)
$50 for 10 images or $75 for 20 images
Regular Entry: March 16 – April 11, 2021
$60 for 10 images or $85 for 20 images
Late Entry: April 12 – April 19, 2021
$70 for 10 images or $95 for 20 images
Student Entry: March 8 – April 19, 2021
Must include Student ID & Current Class Schedule, to be eligible
$40 for 10 images or $70 for 20 images
All entrants must be members of APG. If you are not a member, register to become an APG member, first. If you are uncertain, contact us at info@atlantaphotographygroup.org.
FILE UPLOAD LINK will be in your payment confirmation email.
Entry fees are non-refundable.
READ ENTRY SPECIFICS BELOW.
PORTFOLIO – ENTRY – INFORMATION
Prepare Text File and Images
Entries not meeting the following criteria will be disqualified.

Jpeg files only. No borders. No watermarks or names on the image.

Entries of either 10 or 20 images depending on which you choose.

The exhibition will include up to 10 images from each of the selected artists, no matter how many are entered.

Size to 2100 px on the longest side. Larger files will be disqualified.
Individual files only, do not upload a folder or zip folder.
How to resize digital image files

Rename files to the title of the work exactly as you wish it to appear (Example: My Great Photo.jpg). Your name will be automatically prepended (added) to each file upon upload.

File names should be letters and numbers only, please only use _ or – as symbols, do not use any other symbols in file names.

Create a text file with your – Word doc or PDF only :

Personal Info (name, email, phone, website/social media),

Artist Statement (500 words max),

Bio (250 words max), and

Image list (in this order: Title, Year piece was created , Print/Image Size (H x W), estimated Framed Size (H x W) Medium (archival pigment print, inkjet print, silver gelatin, cyanotype, etc),

Save this file as a Word doc (.doc or .docx) or PDF, – .pages files are not accepted.

After you have paid the entry fee you will receive an automatic confirmation email that will have the upload link for your files.

You will receive an automated confirmation email from Dropbox if your files uploaded properly. If you do not get the confirmation please contact us gallery@AtlantaPhotographyGroup.org

If you have any questions or need assistance, please contact APG gallery@AtlantaPhotographyGroup.org
Upload Text File and Images
Upload link in payment confirmation email.
Be sure you have completed the entry form/payment (see above) and are a current APG member.
You will receive a payment confirmation email
with THE LINK TO UPLOAD YOUR FILES.
Read info above for file size, naming and other important information.
Entries are accepted and processed ONLINE only. We do not accept email, mail or paper entries.