Date(s) - 10/14/2023
Time(s) - 11:00 am - 12:30 pm
Location
Online - Zoom will be sent day of event to those Registered

Into the Studio
Into the Studio is a series that offers an intimate look into processes and workflows of working fine art photographers. In this series working artists will take you behind the scenes, and show you how they create work, using a variety of methods and materials. From digital to alternative process and mixed-media, these capsule classes are designed to spark new ideas, and introduce new ways to use materials in your own work. Join us In the Studio, and start taking your creative process to the next level.
Into the Studio:
Chine-Collé, Printmaking and
Fine Art Photography with Anne Berry
Join us for another session of Into the Studio as we explore one of the ways photographers can use traditional printmaking techniques to produce editioned fine art photographic prints. Chine-collé is an extraordinary printmaking process that uses delicate Japanese paper and expert craftsmanship to produce handcrafted, museum quality, archival prints. In this exclusive workshop, the Atlanta Photography Group (APG) features printmaker and acclaimed fine art photographer, Anne Berry as she takes us through the process that she uses to make chine-collé prints in her studio.
Chine-collé is a traditional printmaking process in which a tissue thin sheet of paper is printed on (using a printing press) and simultaneously mounted to a thicker backing paper, creating a fusion of textures and impressions. The combination of the thin paper with the heavier backing creates an exquisitely detailed impression and luxuriously smooth texture that is particularly well suited for rendering photographic images.
Learning the chine-collé process takes time, practice and access to specialized equipment. Because of this many photographers never get a chance to experience how these exquisite prints are produced. This installment of Into the Studio provides a rare opportunity for photographers to experience and appreciate the intricate process behind these exquisite prints. Through hands-on demonstration and discussions Anne will guide participants through the techniques and creative possibilities of this time-honored printing process.
Whether you are a seasoned artist or a creative enthusiast, this workshop offers a unique opportunity to expand your artistic horizons and discover how some photographers are turning to historic techniques to produce unique imagery in today's digital world. By exploring the interplay of delicate papers, printing presses, and the photographic medium, you will get a glimpse into the world of an artist that has bridged the past and present through her artistry.
No prior experience in printmaking or photography is necessary—only a curious mind and a genuine interest in exploring new artistic territories.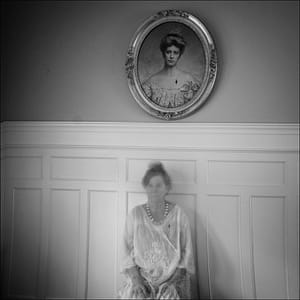 Anne Berry is an artist from Atlanta, Georgia. Her photographs investigate the animal world, the domain of childhood, and the terrain of the Southern wilderness. She also explores themes and metaphors from literature. In 2013 and 2014 Critical Mass included her work in their Top 50 Portfolios. Anne has exhibited nationally and internationally, including The Fox Talbot Museum in Lacock, England, SCAN Tarragona in Spain, The Museum of Photographic Arts in San Diego, and the Ogden Museum of Southern Arts in New Orleans. Books include Through Glass (North Light Press, 2014) Primates (21st Editions, 2017), and Behind Glass, 2021. Anne's work is featured in National Geographic Proof, Feature Shoot, Hufffington Post, and Lens Culture, among others. Her work is in many permanent collections, including the National Gallery of Art. Anne lives in Newnan, GA and is represented by the Catherine Couturier Gallery in Houston.
Instructor's Website –  https://www.anneberrystudio.com
Into the Studio: Chine-Colle, Printmaking and Fine Art Photography
Instructor's Name – Anne Berry
Date(s) – Saturday, October 14, 2023
Time(s) – 11-12:30pm ET
Location – Online
Workshop Fee – $25 Members / $20 Senior Members* / $50 Non-Members
Minimum Enrollment – 4
Maximum Enrollment – none
*65 and older