Date(s) - 09/07/2023
Time(s) - 11:00 am - 12:30 pm
Location
Online - Zoom will be sent day of event to those Registered
Into the Studio
Into the Studio is a series that offers an intimate look into processes and workflows of working fine art photographers. In this series working artists will take you behind the scenes, and show you how they create work, using a variety of methods and materials. From digital to alternative process and mixed-media, these capsule classes are designed to spark new ideas, and introduce new ways to use materials in your own work. Join us In the Studio, and start taking your creative process to the next level.
Into the Studio:
The Art of Wet Plate Photography with Robert Cooper
APG is excited to invite you to another session of Into the Studio as we explore the magical world of wet plate photography with photographer and APG instructor, Robert Cooper. This session offers a rare opportunity to delve into the history, techniques, and artistic possibilities of the wet plate collodion process.
During the workshop, Robert will provide a brief overview of the historical significance of wet plate photography and its profound impact on the evolution of photography as an art form. He will then guide you step by step through the process of coating, exposing, and developing plates, sharing invaluable insights and practical knowledge along the way. Through engaging discussions and a live demonstration, you will witness the alchemy of wet plate photography come to life before your eyes.
Discover the timeless charm and artistic allure of this unique medium as Robert shares his expertise and passion for creating captivating wet plate imagery. The live demonstration will not only offer a look into the intricacies of this historic process but also provide an opportunity for you to actively engage and ask questions, deepening your understanding of the process and sparking new creative ideas.
Whether you are an experienced photographer eager to expand your repertoire or a curious beginner looking to explore new artistic avenues, this workshop promises to be a transformative experience. Immerse yourself in the rich history and techniques of wet plate photography, and let it inspire and elevate your own photographic journey.
Don't miss out on this rare opportunity to delve into "The Art of Wet Plate Photography" with Robert Cooper. Join us for an immersive virtual experience that will transport you into the magical realm of this unique and captivating photographic technique.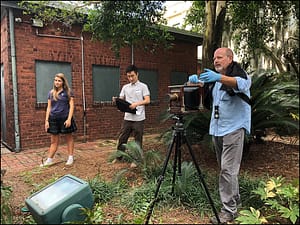 It never really occurred to me that the fact that I grew up in a house built in 1872 in the historic district of Savannah had influenced my love for old things generally, and specifically, photography.
It might have seemed obvious. My earliest inspirations were pioneer photographers like Julia Margaret Cameron, Frederick Evans, Henry Peach Robinson the folks who were really making it up as they went. Part of the attraction was the painterly disposition of the artist making the photograph and part of it was the inherent character of the medium. Everything seemed to slow down and early in my training I began to attempt to catch that pioneer spirit.
I have been a professional photographer for most of my adult life. I became a newspaper photographer while attending Georgia Southern University where I studied photography with Jessica Hines. I worked at the newspaper in Statesboro for several years back when we developed our own film. I was involved with Georgia Press Association and won a number of awards for my photography.
Just prior to Y2K, I moved to Florida to be photo editor at the The Panama City News Herald where I continued to be involved in photojournalism at a state and national level. I was fortunate to shoot freelance assignments for a number of large media outlets.
I moved back to my hometown in 2012 and have been a freelancer here specializing in professional headshots, real estate and aerial drone photography. My good friend Pete Christman who was one of the charter members of the photography faculty at Savannah College of Art and Design taught me platinum printing, but it was when I attended a wet plate collodion workshop hosted by Chris Morgan that I felt like I found the medium that conveyed what I love about the work of those early masters.
I have been working in wet plate for about four years and teaching for two. I have several cameras and a portable darkroom and I love it. I really enjoy sharing this process with new people. That amazed, "WOW," never gets old.
Instructor's Website – www.rscphoto.net
Into the Studio: The Art of Wet Plate Photography
Instructor's Name – Robert Cooper
Date(s) – September 9, 2023
Time(s) – 11-12:30
Location – Online
Workshop Fee – $25 Members / $20 Senior Members* / $50 Non-Members
Minimum Enrollment – 4
Maximum Enrollment – none
*65 and over