Date(s) - 08/15/2023
Time(s) - 7:00 pm - 8:30 pm
Location
Online - Zoom will be sent day of event to those Registered

Into the Studio
Into the Studio is a series that offers an intimate look into processes and workflows of working fine art photographers. In this series working artists will take you behind the scenes, and show you how they create work, using a variety of methods and materials. From digital to alternative process and mixed-media, these capsule classes are designed to spark new ideas, and introduce new ways to use materials in your own work. Join us In the Studio, and start taking your creative process to the next level.
Into the Studio:
Thinking Outside of the Dumpster – A Digital Approach to
Photography and Collage with Jennifer McKinnon Richman
Atlanta Photography Group is excited to take you Into the Studio with APG member, and working fine art photographer, Jennifer McKinnon Richman.  Join her on a virtual tour to learn how she crafts rich visuals using the art of Adobe Photoshop compositing.  Jennifer will share how she turns her concepts into photographic fine art prints while demonstrating the art of multi-image compositing.
The virtual tour will start in her outdoor studio on the streets of Atlanta, where Jennifer will share what she is looking for when shooting and creating textures to use in her photo composites. Next, we will join her in her indoor studio, where she will demonstrate how she transforms images layer-by-layer in Adobe Photoshop, using examples of pieces from her Uncontained Consumption series. There will be ample time throughout the session to ask questions and also time at the end of the workshop for a formal Q&A.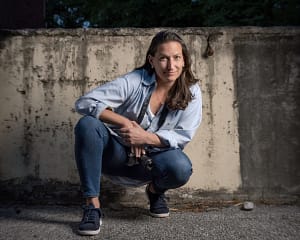 Jennifer McKinnon Richman is a self-taught artist and photographer who began her career twenty years ago as a decoupage/collage artist. During the last ten years, while living in Atlanta, Georgia, Jennifer has focused on photographing dumpsters, using them as a vehicle to bring awareness to the human impact of waste on our natural resources. Digital compositing allows her to combine her love for collage with her photographic work, bringing a unique voice to the environmental art space. Jennifer's work has been featured in group exhibits around Atlanta, including the Atlanta Photography Group, Mason Fine Art, as well as in several online exhibitions and publications, including SouthXSoutheast Magazine. In addition, work from her first series, Uncontained Consumption, has been recognized by The Print Center's 96th Annual International Competition, Mozaik Ecosystem X, and the 2022 Texas Photographic Society National Photography Awards.  Jennifer is currently represented by Spalding Nix gallery in Atlanta, Georgia.
To see more from Jennifer, please scroll to the bottom of the page.
Into the Studio: Thinking Outside of the Dumpster
– A Digital Approach to Photography and Collage with Jennifer McKinnon Richman
Instructor's Name – Jennifer McKinnon Richman
Date – Tuesday, August 15, 2023
Time – 7:00-8:30pm
Location – Online
Workshop Fee – $25 member/$50 non-member