Date(s) - 10/02/2019
Time(s) - 7:00 pm - 9:00 pm
Location
Atlanta Photography Group

APG is pleased to have Ashley Kaushinger lead the October meeting of the Critique Group.
Ashley Kauschinger is an artist, educator, and Founding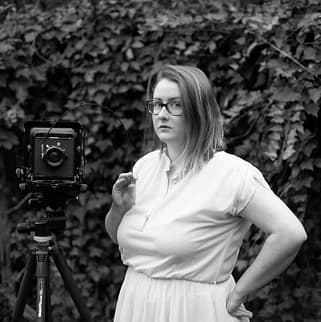 Editor of the online photography magazine, Light Leaked. She received her BFA from Savannah College of Art and Design and her MFA from Texas Woman's University. Her photographs have been exhibited nationally and internationally in venues such as the Light Factory and the Chiang Mai Art Museum. She has been published in Chinese Photography Magazine, PDN Photo Annual, and Lenscratch, among others. Her work is in the collections of Vanderbilt University and the Sir Elton John Collection. Ashley has previously taught photography at the University of South Carolina and Maine Media Workshops + College. She currently lives and works in Atlanta, GA.
Critique Group is for APG members only, but we welcome an exploratory visit. Participants are limited to 6 prints, 8 x 10-ish to 17 x 22-ish. If you'd like to present your work, put your name on the sign-up sheet when you arrive. Critiques are timed so everyone gets equal consideration.
No work? No problem, observing is just as valuable. Guests are always welcome.