Date(s) - 03/01/2019
Time(s) - 11:45 am - 1:00 pm
Join Atlanta Photography Group (APG) and SCAD/Atlanta for a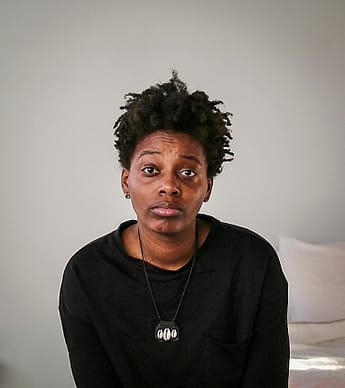 special presentation by multidisciplinary artist Le'Andra LeSeur. LeSeur will give a brief introduction into her artistic journey and practice, to be followed by a screening of her project brown, carmine, and blue, which received the prestigious Juried Grand Prize at Artprize 10 in Grand Rapids, MI.
This event takes place at: SCAD/Atlanta, 1600 Peachtree Road NW, 5th Floor, Atlanta, GA 30309
Le'Andra LeSeur (b. 1989 in Bronx, NY) is a multidisciplinary artist working and living in Jersey City, NJ. She received her BFA from the Savannah College of Art and Design in Atlanta, GA in 2014. Her work explores black identity informed by the effects that regulated systems of oppression have on black women, specifically. Through visual media, installation, and performance, her hope is to reclaim and dismantle stereotypes surrounding black female identity through the reworking of conventional art forms and mundane objects – ultimately reshaping the context of spaces where the lives of the oppressed are silenced and celebrated in the same breath.
LeSeur has participated in exhibitions throughout the Southeast including On Being Black at Arnika Dawkins Gallery in 2015. She was the recipient of the 2017 Contemporary Black Art award at Artprize 9 in Grand Rapids, MI for her piece, Searching, and the recipient of the 2018 Time-Based Category Award and Juried Grand Prize at Artprize 10 in Grand Rapids, MI for her piece, brown, carmine, and blue. Outside of creating her own work, LeSeur has made notable contributions to the arts through her active participation in curating exhibitions and workshops for women of color that speak to the power in existing through expression in a world that shuns black women for these exact actions.
See more of LeSeur's work here.