Date(s) - 10/27/2021
Time(s) - 7:00 pm - 8:30 pm

Workshop: The Portable Portfolio Box: Creative Multi-Purpose Applications for Hahnemühle FineArt Photo Cards with Mark Fitzgerald and Friends
Workshop Description –
Are you looking for clever and engaging options to connect with clients, family, and friends through your photography? Consider the dynamic possibilities of Hahnemühle Photo Cards. The portability and sleek design of the 4×6 Photo Cards + Tin, makes it the perfect Portable Portfolio Box. Be prepared for both scheduled and impromptu meetings with art directors, gallery owners, photo editors, collectors, portfolio reviews and your community of photo enthusiasts…. show your pictures and not your phone!
From promo/marketing pieces, event and gallery invitations to postcards, holiday/note cards, décor art, recipe cards and fun projects for kids. Hahnemühle FineArt Photo Cards are the ultimate medium for creating beautiful and long-lasting reminders of your creative vision.
Kevin Graham and Veronica Cotter with Hahnemühle USA, will talk about the benefits of having a Portable Portfolio Box, share examples of photo card inspired projects, and review the different surfaces available in both the 4×6 and A5 Photo Cards. They will discuss the unique characteristics (base tint, surface and weight) of each paper and give an overview of the 437-year legacy of Hahnemühle.
Kevin and Veronica will be joined by Mark Fitzgerald – a Portland, OR based teacher, author, and Photoshop/Lightroom/Digital Workflow expert. Mark will give tips and review the steps for printing your own Portable Portfolio Box using Hahnemühle FineArt Photo Cards.
Join us for an evening of inspiration and fun.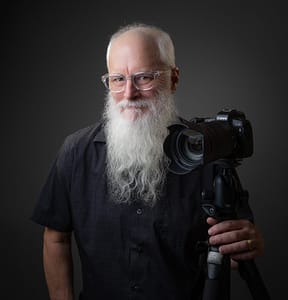 Instructor's Bio – Mark Fitzgerald is a photographer, teacher and author living in Portland, Oregon. He specializes in helping photographers understand modern tools of photography so they can explore their creativity without being overwhelmed by technology. Mark works with all types of photographers –  from seasoned pros to beginners. He currently teaches a wide range of online classes and offers web-based private training to photographers worldwide. Learn more about
Instructor's Website – www.ddroom.com
Other Instructors:
Veronica Cotter
Veronica Cotter is the Education Development and Western Region Manager for Hahnemühle USA.  She works with colleges, universities, photo specialty dealers, fine art print studios and photographers.  Her focus is the importance of the print in a digital environment. Her career began in analog, specifically B&W film, paper and Cibachrome.  She worked for Oriental New Seagull and ILFORD Photo.  Over the years Veronica has led numerous discussions focused on the relevance and joy of printing, creative applications and the connection of fine art paper to the final print.
Kevin Graham
Kevin Graham is the Eastern US and Canada Sales Manager for Hahnemühle. He started his photographic career working retail and moved to ILFORD in the very early 90's. He has worked for various other photographic & paper companies, including Samsung and Crescent Cardboard.  He jumped at the chance to work with Hahnemühle in 2014.  His responsibilities include deepening relationships with existing partners and seeking new channels for Hahnemühle products.  In addition to expanding the Hahnemühle footprint, he has been producing, and hosting a wide variety of virtual events with many organizations around the US and Canada.   Kevin is an avid photographer who is back shooting film!  Currently his Leica M6 is loaded with Cine 800T and his Konica Autoflex T3 has ILFORD XP-2.
Workshop Date: Tuesday, October 27
This Workshop is online
Time: 7:00 – 8:30 pm
Workshop Fee:  APG members: Free / Non-members: $10
Registration CLOSES – 1 day before the class start time.
Visit Us
We аre located at 1544 Piedmont Ave, Suite 107, Atlanta, GA 30324, at Ansley Mall, between CVS and LA Fitness (MAP LINK HERE).
Ansley Mall offers free parking and 24-hour on-site security, as well as, a variety of restaurants and shops.
We ask that all guest for our events be mindful of social distancing protocol for indoor spaces, and we encourage masks while indoors for the safety of our guests, members and staff.