As The Atlanta Photography Group's Portfolio 2020 exhibition enters it's final weeks, we would like to share Spotlight Interviews conducted with each of the eight artists chosen to share their work by esteemed juror Sarah Kennel – today our featured artist is Allison Grant.
Allison Grant is an artist, writer, curator and Assistant Professor of Photography at the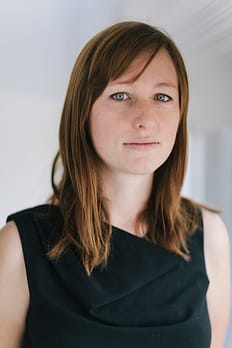 University of Alabama in Tuscaloosa. Her artworks have been widely exhibited at venues including the DePaul Art Museum, Azimuth Projects, Catherine Edelman Gallery and the Weston Art Gallery, among others. She was the 2019 recipient of the Developed Work Fellowship from the Midwest Center for Photography and shortlisted for the 2019 FotoFilmic Mesh Prize. Her works are held in public collections at DePaul Art Museum (Chicago), Columbia College Chicago, Cincinnati Children's Hospital and 4-Culture (Seattle, Wash.). Essays by Grant have appeared in Minding Nature Journal and INCITE: Journal of Experimental Media, Volume 7, as well as numerous artist publications and exhibition catalogs. Grant holds an MFA from Columbia College Chicago (2011) and BFA from the Columbus College of Art and Design (2004).
I sat down with Allison to discuss her work, Within the Bittersweet, and her process:
How does the idea of creating a full body of work influence the outcome and do you usually work with a project already in mind?  
I see creating a body of work as an opportunity to engage deeply with a set of complicated social, political, and cultural dynamics and explore how those dynamics relate to the medium of photography. I usually have some clarity on my intentions when I start, but the process is not a straight line. Instead, I'm constantly adjusting both the edit of images and the conceptual foundation that the work is built on—expanding out and then, when things get too broad, narrowing back in until I find the right balance.
I have a very big stack of pictures that I love but that don't fit in my work. Maybe they'll get pulled into future projects or maybe they will just be one-offs. I am ok with strong pictures never seeing the light of day because the meaning of my work is as much in the editing process as it is in the quality of individual images.
How would you define your style?
I've come to characterize the style of my current project, Within the Bittersweet, as dark pastoral. The mood of the series is meant to hold two concepts in tension. I want my photographs to encapsulate the hauntingly beautiful experience of falling in love with my children, watching them grow, and experiencing the sensuous wonder of the natural world—and also to intersect with the psychic weight of knowing that climate change and environmental contamination are rapidly escalating, with profound impacts expected for the next generation.
The project interweaves documentary and performative approaches to photography. By working with both observational and staged imagery, it is my hope that the pictures will mirror some of the ways facts and data points about environmental issues intersect with my own familial concerns, dreams, and imaginings.
Working in the American South has influenced my photographs a lot. The light here is golden––it's incredible. There is dense, aggressive vegetation year-round, yet the plant life and blooms often look exquisite. The particular qualities of this place have had a major influence on the types of pictures in my work.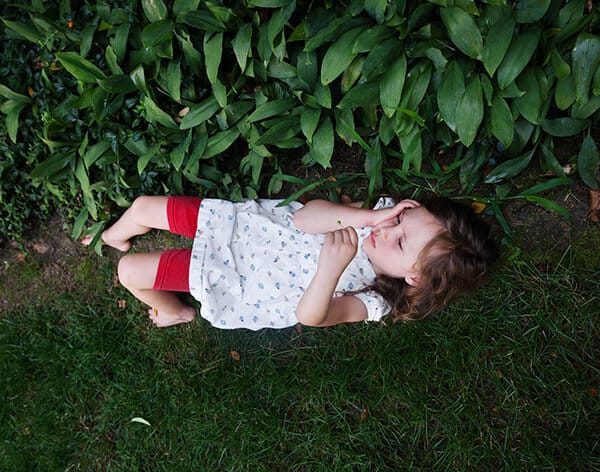 Thinking Child – 2019 ©Allison Grant
How many images do you have to produce before you have a successful body of work?
An uncountable amount. I take a lot of pictures. Being a good photographer has always required skills in editing. With digital photography allowing artists to take 1000s of photographs in a single day that is truer than ever.
I remember my professor in grad school, Paul D'Amato, saying that the key to being a good street photographer is taking a lot of pictures. "Feet on the street," he'd say. I'm not a street photographer but the lesson still applies. The more I shoot and the tougher I edit, the better my work becomes.
I also think it is important for me to not get too attached to my "best" images, especially early on. Sometimes, as work progresses, it becomes critical to let go of a photo that once felt very important to the work. It is always painful but it is one of the most important steps toward growth.
What was the most powerful work of art you recall viewing? Where was it? How did it make you feel?  
I saw a modest suite of paintings of the stars by Veja Celmins in the 2008 Carnegie International. The surface of each piece is flat, but Celmins' use of illusion makes it seem as though the artworks recede back behind the wall and into an endless cosmic expanse. The paintings are small and intimate, but somehow manage to capture the experience of dislocation that I sense when trying to understand the meaning of my life in relationship to the vastness of outer space.
The works are painted from source photographs made by astronomers. They are small meditations on how meaning is made through the process of translation from reality to photograph to painting. I've returned to Celmins' work numerous times since I first saw it, and I'm always left pondering the limits of human knowledge and the unsettling fact that close observation is just as likely to lead to more questions as it is to concrete answers.
By Donna Garcia
Learn more about Allison Grant and check out Portfolio 2020.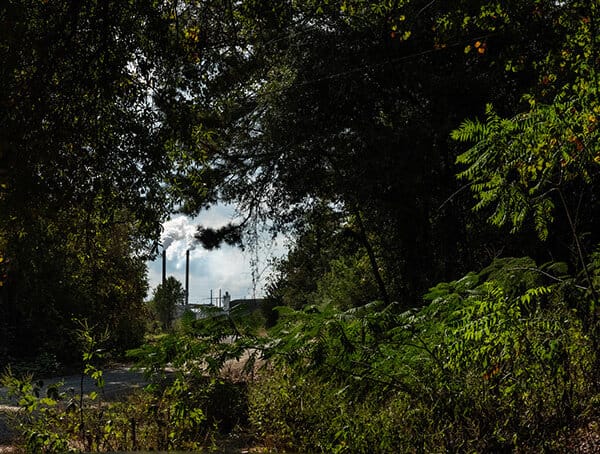 Paper Mill Stacks – 2019 ©Allison Grant