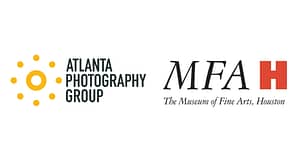 Lisa Volpe, curator of photography at the Museum of Fine Arts, Houston (MFAH), and Chip Standifer, Chairman of the Board of Atlanta Photography Group (APG) announced a new print purchase award program today.
The purchase award cash prize of $2,500 will be awarded each year to an artist or artists picked by the photography curators at MFAH from among those exhibiting in APG's annual Selects exhibition. The chosen work will become part of the permanent collection at MFAH if approved by the museum's reviewing committees. "We're grateful for this generous gesture from APG," said Volpe, "and excited by the chance to discover emerging talent that we might otherwise miss."
The MFAH/APG Purchase Award is generously sponsored by Edwin Robinson and Julin Maloof in memory of Gloria and Ted Maloof.
The juror for this year's exhibition is Coco Conroy, Gallery Director of Jackson Fine Art, Atlanta. Jackson Fine Art is a world-renowned gallery with a 33-year history of supporting artists and collectors.
For more information, press only:
David Clifton-Strawn, Executive Director, APG
404-605-0605
director@atlantaphotographygroup.org