Date(s) - 08/08/2022
Time(s) - 7:00 pm - 8:30 pm
Location
Online - Zoom will be sent day of event to those Registered

Into the Studio
Into the Studio is a new series that offers an intimate look into processes and workflows of working fine art photographers. In this series working artists will take you behind the scenes, and show you how they create work, using a variety of methods and materials. From digital to alternative process and mixed-media, these capsule classes are designed to spark new ideas, and introduce new ways to use materials in your own work. Join us In the Studio, and start taking your creative process to the next level.
Into the Studio with Robert Brown:
Polymer-Gravure and the Gel Transfer Process
Atlanta Photography Group is thrilled to bring you Into the Studio with master printer, Robert Brown. Robert is a printmaker and educator who specializes in photo-based printmaking processes, like photogravure, photo lithography and photo polymer. He has been a master printer for 24 years and has worked with artists such as Kiki Smith, Chakia Booker and Michi Meko. For this Into the Studio installment, Robert will welcome you into his home studio to look at the photo polymer process and printing from home.
Photo polymer is an accessible process that comes from the letterpress industry. Commonly known as solar plates, or polymer gravures, they can provide results very much like photogravure. The workshop will show the process of creating a transparency, exposing and developing the plate, and printing it both by hand and with a press.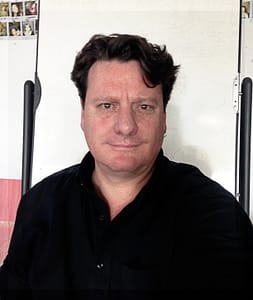 At Colorado State University Robert Brown fell in love with printmaking for its material resistance as well as the dramatic mark making possibilities.  Robert received his BFA in 1994 and moved to Seattle to do Post-baccalaureate work at University of Washington. Robert attended graduate school in Austin Texas where he worked as a teaching assistant and shop manager for Professor Lee Chesney.  In 1999, as a result of the work in his M.F.A. thesis show, Katherine Brimberry of Flatbed Press hired him to intern and become a collaborative printer.  At Flatbed Press Mr. Brown's knowledge of printmaking was deepened and refined by the collaborative process and grew to include photogravure, which is a major part of his current work. Brown has 22 years of teaching experience including Savannah College of Art and Design, Texas State University and Austin Community College. He has had numerous national group and solo shows. Since 2002, Professor Brown has taught at Savanah College of Art and Design (SCAD), and is lead Collaborative Printer for The Southeastern Center for Printmaking which has published artists such as Kiki Smith, Valerie Hammond, Chakaia Booker, Alex Arrechea and many more.
Web Sites: www.roberttbrown.com

Into the Studio with Robert Brown: Polymer-Gravure and the Gel Transfer Process
Instructor's Name – Robert Brown
Date – Monday, August 8, 2022
Time – 7:00-8:30pm
Location – Online – Zoom
Workshop Fee – $20 member/$25 non-member