Date(s) - 01/14/2023
Time(s) - 2:00 pm - 4:00 pm
Location
Online - Zoom will be sent day of event to those Registered

APG's Speaking of Photography (SoP) series is dedicated to giving our photographic community opportunities to learn about contemporary issues of photography through topical discussions, panels, films, and artist/curator talks.
Remembering Lucinda Bunnen
Inward, Outward, Forward
A Curator's Talk with Allison Grant and Veronica Kessenich
In honor of Lucinda Bunnen, and the contributions that she made to the Atlanta photographic community as an artist, collector and patron, APG's Speaking of Photography series is hosting a curator's talk centered around Atlanta Contemporary's 2021 exhibition of her work entitled, Inward, Outward, Forward. Atlanta Contemporary's Executive Director, Veronica Kessenich, and the exhibition's curator, Allison Grant, will discuss the process of planning, curating, and installing the exhibition showcasing Bunnen's wide-ranging use of photography, while simultaneously highlighting her contributions to Atlanta's art community by including works from Bunnen's own collection.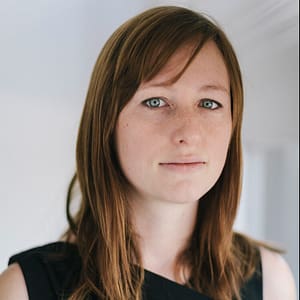 Allison Grant
Independent Curator, Artist, Writer and Educator
Tuscaloosa, AL
Allison Grant is an artist, writer, curator, and Assistant Professor of Photography at the University of Alabama. Her artworks have been widely exhibited at venues including the High Museum of Art (Atlanta); DePaul Art Museum(Chicago); Patti & Rusty Rueff Galleries at Purdue University (West Lafayette, IN); Edelman Gallery (Chicago); and the Weston Art Gallery (Cincinnati), among others. She was named on the Silver Eye Center for Photography's 2022 Silver List. Grant received the 2020 Portfolio Purchase Award from the Atlanta Photography Group, the 2019 Developed Work Fellowship from the Midwest Center for Photography and was shortlisted for the 2019 FotoFilmic Mesh Prize. Works by Grant are held in collections at the High Museum of Art (Atlanta), DePaul Art Museum (Chicago), Columbia College Chicago, Cincinnati Children's Hospital Research Foundation art collection, Cisco Systems Corporate Art Collection (Durham, NC), and the King County Portable Works Collection (Seattle).
Grant has curated exhibitions at venues including the Museum of Contemporary Photography, Chicago; Photoforum Pasquart, Biel, Switzerland; Filter Space, Chicago; and Atlanta Contemporary. Essays by Grant have appeared in Minding Nature Journal and INCITE: Journal of Experimental Media, Volume 7, as well as numerous artist publications and exhibition catalogs. Grant holds an MFA from Columbia College Chicago (2011) and BFA from the Columbus College of Art and Design (2004).
Website – www.allisongrant.com
Veronica Kessenich
Executive Director
Atlanta Contemporary, Atlanta, GA
As Executive Director, Veronica Kessenich stewards the mission and strategic plan of Atlanta Contemporary, guiding the artistic programming with an array of independent curators and program partners, and successfully leads the organization through the unprecedented years of COVID-19. Kessenich joined Atlanta Contemporary in June 2013 and was appointed as Executive Director in July 2015. Kessenich authored and executed the Capitalization Fund grant that underwrote Atlanta Contemporary's transition to free admission which since implementation has seen a radical transformation in annual attendance.
Born and raised in Atlanta, Kessenich received her Bachelor's Degree from Saint Mary's College (IN) and her Masters of Philosophy in Art History from St. Andrews University (Scotland). She has been active in the field of art as an art administrator, art historian, curator and consultant for over fifteen years. Beginning her career as Gallery Director at Atlanta's prestigious Fay Gold Gallery, Kessenich has worked as a lecturer at Agnes Scott College, the Savannah College of Art & Design – Atlanta, and the Art Institute of Atlanta. In recognition of her contributions to the arts, Kessenich was named one of Atlanta's 500 Most Powerful People (Atlanta Magazine, 2019), received the CCA Community Impact Award (Emory University, 2016) and was named one of Atlanta's Women of Power (The Atlantan, 2015).
Website – atlantacontemporary.org