Date(s) - 06/01/2022 - 08/15/2022
Time(s) - 6:00 am - 11:59 pm
Location
Atlanta Photography Group
Tell Me A Story: Documentary and Street Photography
The Atlanta Photography Group is excited to announce our next CFE, Tell Me A Story, which celebrates street and documentary photography of all styles with images that reflect a strong narrative. We are looking for your most compelling stories – they can be candid depictions of everyday life, shadows of the city streets, the abandonment of a country road, subtle moments of joy, humor, love, fear or anxiety. Think of work like that created by Diane Arbus, Bruce Davidson, Robert Frank, Josef Koudleka, Helen Levitt, Baldwin Lee, Roy DeCarava, Mary Ellen Mark, Daido Moriyama, Lee Friedlander, Lisette Model, Gordon Parks, and Harry Callahan.
Your story can be told with a single image or several images as a series.
Henry Horenstein, a world-renowned photographer, author, and educator will be APG's esteemed juror for this CFE. Mr. Horenstein will also be APG's guest speaker for Atlanta Celebrates Photography this year. He will be in attendance for the opening reception of Tell Me A Story and the in-person Juror / Artist Talks on the evening of September 15, 2022. There will be a book signing / artist talk at the APG Gallery on Saturday, September 17th which will focus on Henry's decades of work and his many photo books. On that same evening there will be a screening of Henry's multi-award-winning film, Blitto Underground.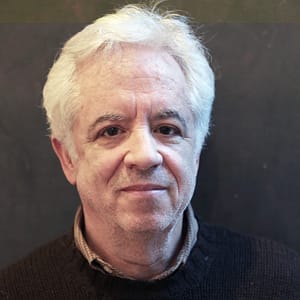 Henry Horenstein
Photographer, Author, Filmmaker and Educator
Henry Horenstein has been a professional photographer, filmmaker, teacher, and author since the 1970s. He studied history at the University of Chicago and earned his BFA and MFA at Rhode Island School of Design (RISD), where he studied with legends Harry Callahan and Aaron Siskind.
Henry's work is collected and exhibited internationally, and he has published over 30 books, including several monographs of his own work such as Honky Tonk, Histories, Show, Animalia, Humans, Racing Days, Close Relations, and many others. His next monograph Speedway72, which features photographs made 50 years ago, will be published in 2022. He has also authored Black & White Photography, Digital Photography, and Beyond Basic Photography, used by hundreds of thousands of colleges, universities, high schools, and art school students as their introduction to photography. His Shoot What You Love serves both as a memoir and a personal history of photography over the past 50 years.
In recent years, Henry has been making films: Preacher, Murray, Spoke, Partners, and Blitto Underground, which just premiered. He is currently in production on Where Everybody is Somebody, a film about Cajun Louisiana.
Henry is professor of photography at RISD and lives in Boston.
ENTRY INFORMATION
CFE Dates: June 1 – August 15, 2022
Early Submissions: June 1st -30th
(enter early and include a BONUS image)
3 images: $35, 5 images: $50, 7 images: $60, 9 images: $75
Regular Submissions: July 1st – 31st
2 images: $35, 4 images: $50, 6 images: $60, 8 images: $75
Late Submissions: August 1st– 15th
2 images: $40, 4 images: $60, 6 images: $70, 8 images: $85
Student Submissions:
2 images: $30, 4 images: $45, 6 images: $55, 8 images: $70
* Selected work can be up to 36" on the longest side framed for the exhibition.
Deadline For Entries: August 15, 2022, Midnight
Notification of Accepted Work: On or about August 23, 2022
Delivery of Work: August 23 – September 10, 2022 at 4pm.
Show Dates: September 13 – October 13, 2022
Reception & Juror Talk: September 15, 2022 6-9PM
Pick-Up: Works must be picked up by October 22, 2022 at 4pm. Please provide return label if you аre shipping your work.
Open to APG members – Join or Renew Now!
FILE PREPARATION
Juror, Henry Horenstein will be selecting the images from all entries.
Export images as .jpg. Resize to 2100 px on the longest side.
Rename files to the titles of each work exactly as you wish it to appear (example: My Great Photo.jpg) Your name will be automatically prepended to the file upon upload.
Create a text file with your Personal Info (name, email, phone, website/social media), Artist Statement (500 words max), Bio (250 words max), and Image list (in this order: Title, Year piece was created, Print/Image Size (H x W), estimated Framed Size (H x W) Medium (archival pigment print, inkjet print, silver gelatin, cyanotype, etc.), and save this file as a Word doc or PDF.
Once you have paid the Entry Fee, you will receive an email with a link to upload your files
In order to submit your work you must be a current APG member. Join or Renew Now!
All entries must be completed ONLINE. Do NOT email any image files
Complete Online Registration & Payment
Upload Files to the Dropbox link found in the payment confirmation.
Once you get this link, you must be logged into the website in order to successfully upload your work.
If you have any questions or need assistance, please contact – gallery@AtlantaPhotographyGroup.org