Date(s) - 07/18/2022
Time(s) - 7:00 pm - 8:30 pm
Location
Online - Zoom will be sent day of event to those Registered

Into the Studio
Into the Studio is a new series that offers an intimate look into processes and workflows of working fine art photographers. In this series working artists will take you behind the scenes, and show you how they create work, using a variety of methods and materials. From digital to alternative process and mixed-media, these capsule classes are designed to spark new ideas, and introduce new ways to use materials in your own work. Join us In the Studio, and start taking your creative process to the next level.
Into the Studio with Nicole LeCorgne:
Platinum/Palladium Printing on Japanese Gampi Paper
Atlanta Photography Group is excited to take you Into the Studio with fine art photographer and alternative process printer, Nicole LeCorgne. Nicole specializes in the wet plate collodion process, and turning the wet plate images into large scale platinum/palladium prints on Japanese Gampi tissue. In this studio visit Nicole will be taking you into her darkroom to show you the methods uses, as well as the tools she has developed to work with ultra-thin Japanese papers.
Nicole will talk about her artistic process, as well as show both black glass ambrotypes and final platinum/ palladium prints. She will give a quick overview of her image capture process using wet plate collodion, and the method she uses to create he digital negatives. Lastly, Nicole will walk you through the process of printing platinum/palladium on to gampi paper, as she makes a print in the darkroom. There will be ample time throughout the session to ask questions, and also time at the end of the workshop for a formal Q&A.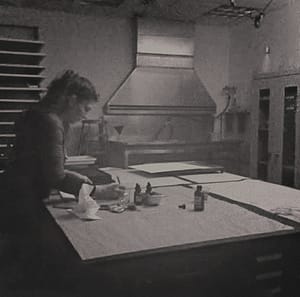 Originally from New Orleans, LA, Nicole LeCorgne is a photographer specializing in wet plate collodion and historic printing processes. Nicole developed a love for darkroom processes and photography as fine art while an undergraduate at University of New Orleans, but spent the greater part of her career as a percussionist, educator, and ethnomusicologist specializing in music of the Middle East. Nicole has lived and traveled throughout the US and Middle East. In the early 2000's she began making digital images and field recordings documenting the musical worlds she had been inhabiting for more than a decade. Nicole ultimately returned to the darkroom and fine art photography.
Most recently she has been making work that documents internal rather than external worlds. Nicole is a Fulbright scholar with an MA in Ethnomusicology from Wesleyan University, and an MFA in Photography from Savanah College of Art and Design. She has photographed in Saudi Arabia for Aramco World Magazine, and has work included in collections such as the Smithsonian Institution and the Awagami Paper Museum in Japan. Nicole is currently the Programs Director for the Atlanta Photography Group and lives in Marietta, GA.
Web Site: www.nicolelecorgnephotography.com
Instagram: @nicolelecorgnephotography
Facebook: nicolelecorgnephotography
Into the Studio with Nicole LeCorgne: Platinum/Palladium Printing on Japanese Gampi Paper
Instructor's Name – Nicole LeCorgne
Date – Monday, July 18, 2022
Time – 7:00-8:30pm
Location – Online – Zoom
Workshop Fee – $20 member/$25 non-member