Date(s) - 06/26/2023
Time(s) - 7:00 pm - 9:00 pm
Location
Online - Zoom will be sent day of event to those Registered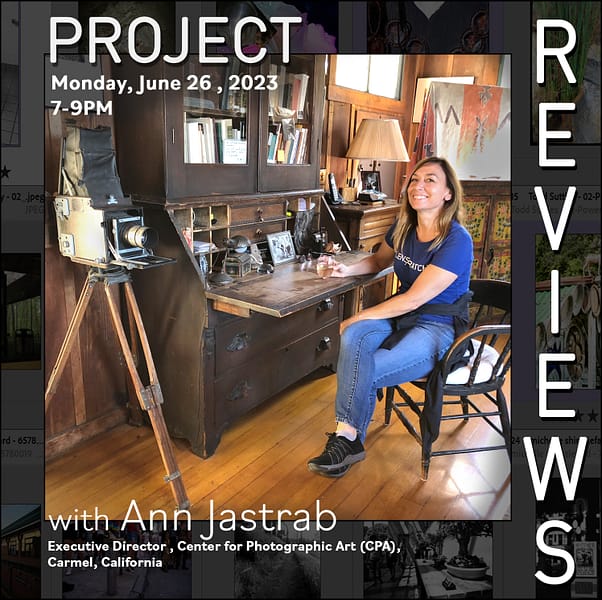 The APG Project Review series brings in nationally recognized industry professionals to conduct mini-project reviews. These reviews not only offer photographers the opportunity to get valuable feedback on their work from these experts in the field, but also offers participants the opportunity to observe and learn from other photographer's work.
The review sessions are structured to allow 10 photographers to present their work, while up to 80 viewers attend the reviews via ZOOM. By including both presenters and observers, APG Project Reviews are a master class in photographic literacy, allowing all attending to learn more about the art of photography by seeing their work and the work of their peers through the eyes of these accomplished professionals.
For our June 2023 Project Review Session, APG is honored to feature, Ann Jastrab, Executive Director at the Center for Photographic Art (CPA) in Carmel, California, as the guest reviewer.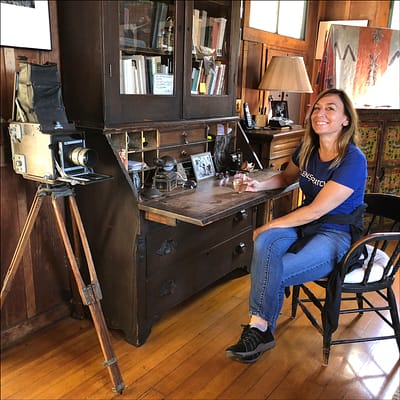 Ann M. Jastrab
Executive Director
Center for Photographic Art, Carmel, California

Ann M. Jastrab is the Executive Director at the Center for Photographic Art (CPA) in Carmel, California. Before taking the helm at CPA, Ann was the gallery manager at Scott Nichols Gallery and also the gallery director at RayKo Photo Center in San Francisco for 10 years. Ann has curated many shows in California while simultaneously jurying, curating, and organizing numerous exhibitions for other national and international venues. While being a champion of artists, she created a thriving artist-in-residence program at RayKo where multiple residents including Meghann Riepenhoff, Carlos Javier Ortiz, Kathya Marie Landeros, Klea McKenna, and McNair Evans all received Guggenheim Fellowships.
Center for Photographic Art
CPA strives to advance photography through education, exhibition and programming. These regional traditions evolved out of CPA's predecessor, the renowned Friends of Photography. While respecting these West Coast traditions, CPA is also at the vanguard of the future of photographic imagery.
Website – Center for Photographic Art
PROJECT REVIEW GUIDELINES
APG Project Review sessions are limited to 10 photography reviews, and up to 80 observing participants. Reviews are moderated and timed by an APG Staff member, so everyone gets equal consideration. An APG moderator will also be responsible for the technical aspects of presenting selected projects via Zoom. This will allow participants the freedom to focus on their images and the reviewer's comments.
At the end of the review there will be a Q&A, open to everyone, where all guests can ask questions based on that evening's review.
APG Project Reviews have two registration options: Submit for Review or Listen & Learn.
Submit for Review Option – is for those interested in submitting projects for review. APG Project Reviews are $25 for members and $50 for non-members.
The review session is limited to 10 member projects of 10-20 images each, and submissions are accepted on a first come first serve basis.
If you would like to present work, please keep in mind that the individual reviews are short, only 10-12 minutes – depending on the number of presenters. However, 10 minutes from an experienced reviewer can provide invaluable insight into a body of work. In order to get the most out of the time you have, we recommend submitting an artist statement along with your images, and to come prepared with one or two questions/objectives that you can share with the reviewer. This will allow the reviewer to address your individual needs in addition to giving their general comments about your body of work.
Listen & Learn Option – Not ready to show work? Not a problem, observing a review is just as valuable. Register to be an observing participant and glean invaluable knowledge from industry experts that can be applied to your own work. The Listen and Learn Option is free to members, and non-members can register for a $10 fee.
REGISTRATION IS REQUIRED for ALL levels of participation in Project Review sessions.
Not an APG Member? – Join or Renew Now!
REGISTRATION INFORMATION
Submit for Review Reg:        Saturday, May 13 – Thursday, June 22, 2023
Listen & Lean Reg:                 Saturday, May 13 – Sunday, June 25, 2023
Event:                                        Monday, June 26, 2023 from 7:00-9:00 pm EST
Location:                                   Online – Zoom link will be sent Thursday morning March 2, 2023
If you would like to present your work, please read the guidelines and register below.
Not an APG member? Join or Renew Now! and save money on this and other APG workshops and calls for entry.
All entries must be completed ONLINE. Do NOT email any image files
Complete Online Registration & Payment – you will receive an upload link
MEMBERS PLEASE NOTE: Once you get this link, you must be logged into the website in order to successfully upload your work.
NON-MEMBERS: Once you get this link, you DO NOT NEED need to be logged into the website in order to successfully upload your work.
Upload Files to the Dropbox link found in the payment confirmation.
Please note that review spaces are limited. Once registration has filled, you will have the option of signing up for the waiting list.
PREPARE TEXT FILE AND IMAGES
Choose up to 10 images that you would like to submit for review.
Export/Save images as .jpg. Resize to 2100 pixels on the longest side.  Imaging Sizing Information
Rename files — with YOUR NAME and a SEQUENCING NUMBER (0 + #1-10) to indicate the order you would like to see them viewed in the critique. (Example: JanePhotographer_01.jpg).
OPTIONAL – Create a WORD document or PDF with your: Personal Info (name website/social media), a short Artist Statement (250 words max), and an Image list that includes the Image Number, Title, and Medium (archival pigment print, inkjet print, silver gelatin, cyanotype, etc.). NOTE: DO NOT send PAGES files.
Once you have completed your registration, you will receive a confirmation email with a link to the upload form that will allow you to upload your work.
Members must be logged into the APG Web site (Login – Atlanta Photography Group) to access the upload form.
After you successfully upload your files, you will see a message in your web browser saying "Thanks for your Submission".
All payment & entries must be completed ONLINE.
If you have any questions or need assistance, please contact APG Programs Director, Nicole LeCorgne – programs@AtlantaPhotographyGroup.org
Submit For Review registration OPEN through Thursday, June 22, 2023 @10pm
Listen and Learn registration OPEN through Sunday, June 25, 2023 @5pm