Date(s) - 10/07/2021 - 10/28/2021
Time(s) - 7:00 pm - 9:00 pm

Workshop: Animals in Photography: History, Metaphor, and Symbolism
Workshop Description –
This workshop focuses on the dynamic relationship between humankind and animals. Artists have been photographing animals, domestic and wild, since the early days of photography. Animals have been the subject matter for many famous photographers, working in various categories such as documentary, analog, editorial and fine art. As Elliot Erwitt once famously said, "Dogs don't mind being photographed in compromising situations." Many of us share our lives and homes with a dog or a cat, while also sharing natural spaces with wildlife on a daily basis. Animals in photography have been used to tell stories, create metaphors or to educate the public on contemporary issues. How animals are perceived matters, especially as the loss of habitat around the world is bringing people and animals into closer contact. In this workshop, we will look at the various ways animals have been portrayed and used in photography. We will also discuss artist statements and visual elements such as composition, color, content and how it applies to subject matter. Participants will create their own animal related project and share it with the group at the end of the workshop.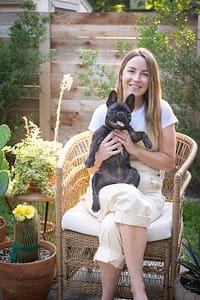 Instructor's Bio – Using traditional photographic processes, Virginia Jackson Carr's work explores themes of family, memory, place and home. Her work has been exhibited at Atlanta Legal Aid Society, Atlanta Photography Group, The Center for Civil and Human Rights: Civil Rights Museum Atlanta, Garcia/Wilburn Gallery, Georgia State University, New Orleans Photo Alliance, The Photographer's Eye Collective, The Praxis Gallery, SCAD Open Studio, Savannah College of Art and Design in Savannah, SE Center for Photography, South x Southeast Photography Gallery, Women's Caucus for Art of Georgia, Whitespace Gallery, and In-the-In-Between.com. Virginia Jackson Carr has a Master of Fine Arts in Photography from Savannah College of Art and Design. She currently lives in Austin, TX with her husband and their three dogs.
Instructor's Website –  www.virginiajacksoncarr.com
Workshop Date: Thursdays, October 7, 14, 21, & 28, 2021
This Workshop is ONLINE
Time: 7:00 – 9:00 pm
Workshop Fee:  APG members: $150 / Non-members: $175
Registration CLOSES – 1 day before the class start time.